Drainage Patterns and Drainage Systems of India
Drainage:


The flow of water through well-defined channels is known as 'drainage' and the network of such channels is called a 'drainage system'.

Drainage Pattern:


It refers to the system of flow of surface water mainly through the forms of rivers and basins.
The drainage system depends upon factors such as slope of land, geological structure, amount of volume of water and velocity of water.
Types of Drainage Patterns
Folding and Faulting
When the Earth's crust is pushed together via compression forces, it can experience geological processes called folding and faulting.
Folding occurs when the Earth's crust bends away from a flat surface.


A bend upward results in an anticline and a bend downward results in a syncline.

Faulting happens when the Earth's crust completely breaks and slides past each other.
Whether the Earth's crust experiences a fold or fault will depend on the material it is made out of in that area.


A fold is more likely to happen with flexible material and it is what causes mountains to form, whereas a fault will happen with more brittle material and is what causes earthquakes to occur.
Radial Drainage Pattern:


The radial drainage pattern develops around a central elevated point and is common to conically shaped features such as volcanoes.
When the rivers originate from a hill and flow in all directions, the drainage pattern is known as 'radial'.
E.g. The rivers originating from the Amarkantak range; Narmada and Son (tributary of Ganga).

Centripetal Drainage Pattern:


It is just the opposite of the radial as streams flow toward a central depression.
During wetter portions of the year, these streams feed ephemeral lakes, which evaporate away during dry periods.


Sometimes, salt flats are also created in these dry lake beds as salt dissolved in the lake water precipitates out of solution and is left behind when the water evaporates away.

E.g. Loktak lake in Manipur.
Drainage System of India
Himalayan Drainage System: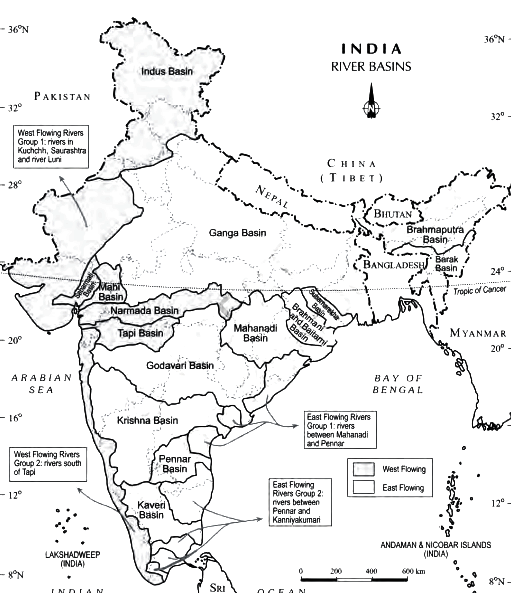 Peninsular Drainage System
About:


The peninsular rivers are characterised by fixed course, absence of meanders and nonperennial flow of water.
The drainage system is older than the Himalayan one.
The Western Ghats running close to the western coast act as the water divide between the major Peninsular rivers.
Most of the major Peninsular rivers except Narmada and Tapi flow from west to east.


Narmada:


It is the largest west flowing river of the peninsular region flowing through a rift valley between the Vindhya (north) and the Satpura Range (south).
It rises from Maikala range near Amarkantak in Madhya Pradesh.
Major Tributaries of the river are Hiran, Orsang, Barna and Kolar.
The Narmada basin covers parts of Madhya Pradesh, Maharashtra and Gujarat.


Tapi:


Another important westward flowing river, originates from the Betul district of Madhya Pradesh in the Satpura ranges.
It flows in a rift valley parallel to the Narmada but is much shorter in length.
Its basin covers parts of Madhya Pradesh, Gujarat and Maharashtra.

Mahanadi:


It rises in Raipur district of Chhattisgarh and runs through Odisha to discharge its water into the Bay of Bengal.
53% of the drainage basin of this river lies in Madhya Pradesh and Chhattisgarh, while 47% lies in Odisha.
Major tributaries: Seonath, Hasdeo, Mand, Ib, Jonking and Tel rivers.
Its basin is bounded by the Central India hills on the north, by the Eastern Ghats on the south and east and by the Maikala range on the west.

Godavari:


It is the largest Peninsular river system and is also called the "Dakshin Ganga".
It rises in the Nasik district of Maharashtra and discharges its water into the Bay of Bengal.
Its tributaries run through the states of Maharashtra, Madhya Pradesh, Chhattisgarh, Odisha and Andhra Pradesh.
Penganga, Indravati, Pranhita, and Manjra are its principal tributaries.

Krishna:


Krishna is the second largest east flowing Peninsular river which rises near Mahabaleshwar in Sahyadri.
Koyna, Tungbhadra and Bhima are its major tributaries.
It flows through the states Maharashtra, Karnataka, Telangana and Andhra Pradesh before flowing into the Bay of Bengal.

Kaveri:


Kaveri rises in Brahmagiri hills of Kodagu district in Karnataka.
It is a sacred river of southern India.
Its important tributaries are Arkavathi, Hemavathi, Bhavani, Kabini and Amravati.
It flows in a southeasterly direction through the states of Karnataka, Kerala and Tamil Nadu and drains into Bay of Bengal through Pondicherry.