Maha Bodhi Temple Complex
Bhutan's Foreign Minister recently visited Maha Bodhi Temple in Bodh Gaya, Bihar.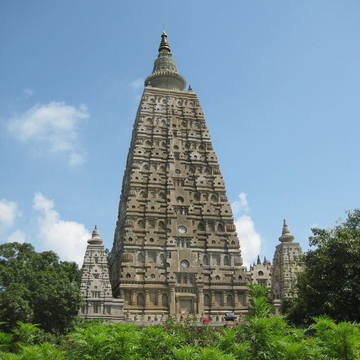 The Maha Bodhi Temple Complex is one of the four holy sites related to the life of the Lord Buddha, and particularly to the attainment of Enlightenment (Bodhi).


The other three are: Lumbini (Birth) in Nepal, Sarnath (Dharma-Chakra-Pravartana - 1st Sermon) and Kushinagar (Mahaparinirvana- death) in Uttar Pradesh.

The original structure was built by the Mauryan emperor Ashoka. However, it was reconstructed entirely in brick in late Gupta period. The present temple dates from the 5th or 6th centuries.
The site of the Mahabodhi Temple provides exceptional records of the events associated with the life of Buddha and subsequent worship.
A descendant of the Bodhi tree under which the Buddha is said to have sat until he attained enlightenment stands adjacent to the temple.


Ashoka's stone slab purporting to mark the exact position where the Buddha sat is traditionally called the Buddha's vajrasana (literally "diamond throne" or "thunder seat").

It was recognized as a UNESCO World Heritage site in 2002.