Year End Review 2019: Ministry of Social Justice and Empowerment
The mandate of the Ministry is empowerment of the socially, educationally and economically marginalised sections of the society including Scheduled Castes, other Backward Class, Senior Citizens, Victims of Alcoholism and Substance Abuse, Transgender Persons, Beggars, Denotified and Nomadic Tribes (DNTs), Economically Backward Classes (EBCs) and Economically Weaker Section (EWS).
Important Schemes and Policies
National Survey on Extent and Pattern of substance (Drugs) Abuse in India
National Drug Dependence Treatment Centre (NDDTC), AIIMS has completed the National Survey on Extent and Pattern of substance (Drugs) Abuse in India.
National Action Plan for Drug Demand Reduction (NAPDDR) for 2018-25 has also been prepared and implemented, which aims at reduction of adverse consequences of drug abuse through a multipronged strategy involving education, de-addiction and rehabilitation of affected individuals and their families.
International Day against Drug Abuse and Illicit Trafficking was observed on 26th June 2019.
Assistance for Prevention of Alcoholism and Substance (Drugs) Abuse
The central sector scheme is being implemented for identification, counseling, treatment and rehabilitation of addicts through voluntary and other eligible organizations.
Under this Scheme, financial assistance is provided to NGOs/Voluntary organizations and other eligible agencies for setting-up/running Integrated Rehabilitation Centre for Addicts (IRCAs).
Note:
Article 47 of the Constitution provides that the State shall endeavor to bring about prohibition of the consumption except for medicinal purposes of intoxicating drinks and of drugs which are injurious to health.
India is a signatory to three United Nations Conventions, namely:

Convention on Narcotic Drugs, 1961;
Convention on Psychotropic Substances, 1971; and
Convention against Illicit Traffic in Narcotic Drugs and Psychotropic Substances, 1988.
Department of Empowerment of Persons with Disabilities (DEPwD)
DEPwD was created in order to give focused attention to Policy issues and meaningful thrust to the activities aimed at welfare and empowerment of the Persons with Disabilities.
It acts as a Nodal Agency for matters pertaining to disability and Persons with Disabilities including effecting closer coordination among different stakeholders: related Central Ministries, State/UT Governments, NGOs etc. in matters pertaining to disability.
International Day of Persons with Disabilities was celebrated worldwide on 3rd December 2019.
India is a signatory of the United Nations Convention on Rights of Persons with Disabilities (UNCRPD). It ratified this Convention in 2007.
India submitted its First Country Report on Status of Disability in India in November 2015. The UN Committee on CRPD in its 22nd Session took up India's First Country Report for consideration during 2nd & 3rd September 2019 at UNHRC, Geneva.
Note:
Article 41 of the Constitution states that State shall make effective provision for securing right to work, to education and to public assistance in cases of unemployment, old age, sickness and disablement, within the limits of its economic capacity and development.
The subject of 'relief of the disabled and unemployable' is specified in the state list of the Seventh schedule of the constitution.
Important Legislations
Transgender Persons (Protection of Rights) Act 2019
Brings greater accountability on the part of the Central Government and State Governments/Union Territories Administrations for issues concerning Transgender persons.
Will benefit a large number of transgender persons, mitigate the stigma, discrimination and abuse against this marginalized section and bring them into the mainstream of society.
Can lead to greater inclusiveness and can make the transgender persons productive members of the society.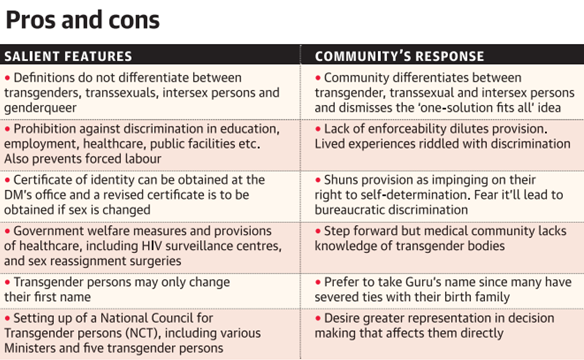 Important Facts
The President of India presented the "Vayoshreshtha Samman" to the eminent senior citizens and institutions in recognition of their services towards the cause of the elderly persons, to mark the "International Day of Older Persons" (October 1).
The Vayoshreshtha Samman was instituted in the year 2005 and was upgraded to the status of National Awards in the year 2013.
Centre for Disability Sports
The Government has approved setting up of a Centre for Disability Sports at Gwalior, Madhya Pradesh with a view to provide contemporary training facilities for Divyang Sportspersons at par with leading countries in the world.
World Mental Health Day
World Mental Health Day was observed on 10th October 2019.
The theme of World Mental Health Day-2019 is 'Mental Health Promotion and Suicide Prevention'.