India-Nepal Relations
For Prelims: India-Nepal Relations, India-Nepal Treaty of Peace and Friendship of 1950, Kalapani Boundary Issue, India's Neighbourhood First Policy.
For Mains: India-Nepal Relations - Significance, Associated Challenges and Ways to Resolve the Challenges.
Why in News?
Recently, the Indian Prime Minister visited Lumbini, Nepal, the birthplace of Buddha, where he laid a foundation stone along with the Nepalese Prime Minister for a Buddhist Vihara, being built with Indian assistance.
How have the Historical Ties been?
Nepal is an important neighbour of India and occupies a special significance in its foreign policy because of the geographic, historical, cultural and economic linkages/ties that span centuries.
India and Nepal share similar ties in terms of Hinduism and Buddhism with Buddha's birthplace Lumbini located in present day Nepal.
The two countries not only share an open border and unhindered movement of people, but they also have close bonds through marriages and familial ties, popularly known as Roti-Beti ka Rishta.
The India-Nepal Treaty of Peace and Friendship of 1950 forms the bedrock of the special relations that exist between India and Nepal.
What is the Treaty of Peace and Friendship of 1950?
The treaty talks about the reciprocal treatment of Indian and Nepali citizens in the two countries, in residence, property, business and movement.
It also establishes national treatment for both Indian and Nepalese businesses (i.e., once imported, foreign goods would be treated no differently than domestic goods).
It also gives Nepal access to weaponry from India.
What is the Significance of Nepal for India?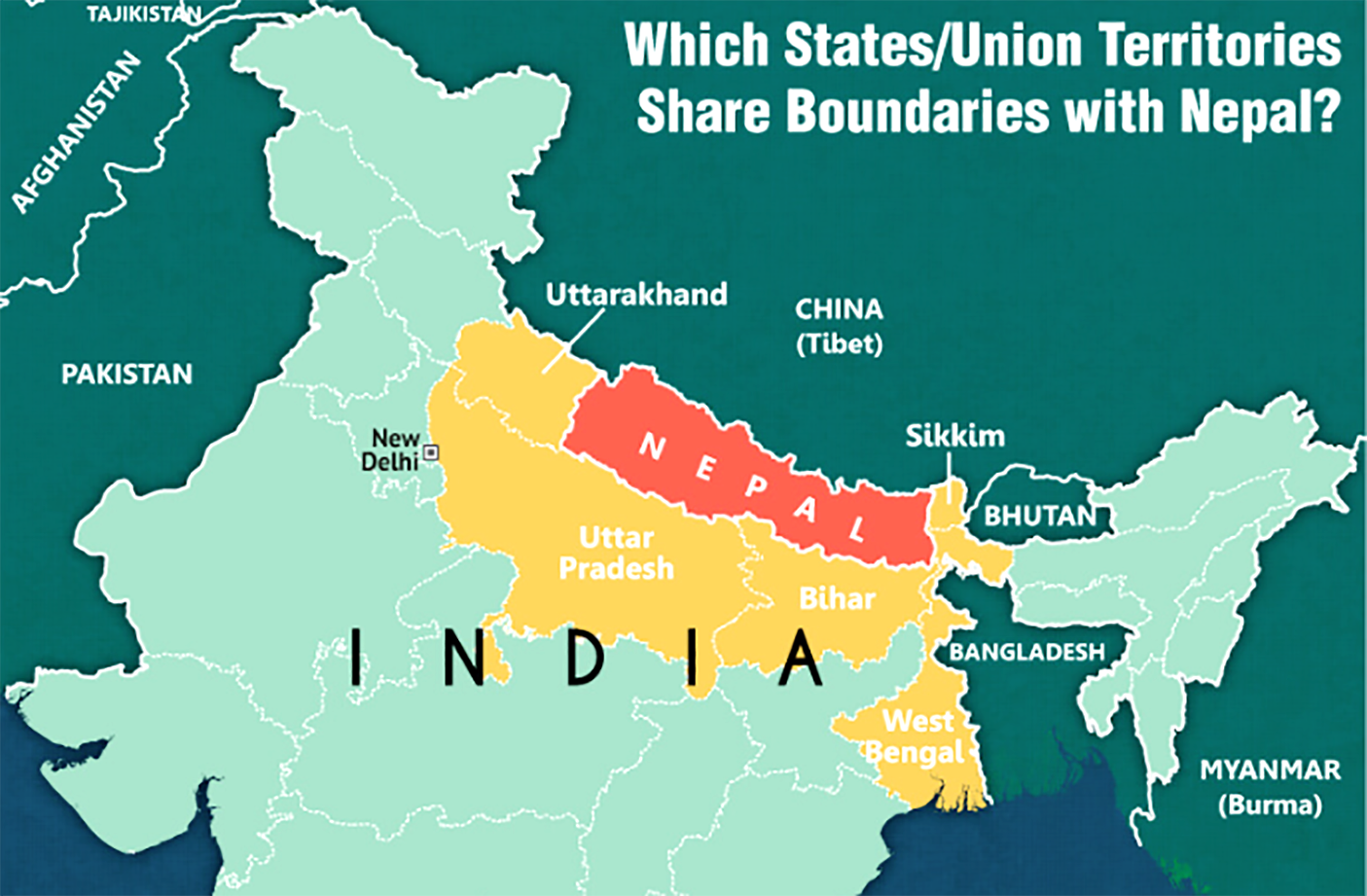 Nepal shares border with 5 Indian states- Uttarakhand, Uttar Pradesh, West Bengal, Sikkim and Bihar. Hence an important point of cultural and economic exchange.
The importance for India can be studied from two different angles:

Their strategic importance for India's national security.
Their place in India's role perception in international politics.

Nepal is right in the middle of India's 'Himalayan frontiers', and along with Bhutan, it acts as a northern 'borderland' flanks and acts as buffer states against any possible aggression from China.
Rivers originating in Nepal feed the perennial river systems of India in terms of ecology and hydropower potential.
Many Hindu and Buddhist religious sites are in Nepal making it an important pilgrim site for a large number of Indians.
What are the Areas of Cooperation Between the Two Countries?
Trade and Economy:

India is Nepal's largest trade partner and the largest source of foreign investments, besides providing transit for almost the entire third country trade of Nepal.

Total bilateral trade in 2018-19 reached INR 57,858 cr (US$ 8.27 bn). In 2018-19, while Nepal's exports to India stood at INR 3558 cr (US$ 508 mn), India's exports to Nepal were INR 54,300 cr (US$ 7.76 bn).

Indian firms engaged in manufacturing, services (banking, insurance, dry port), power sector and tourism industries etc.

Connectivity:

Nepal being a landlocked country is surrounded by India from three sides and one side is open towards Tibet which has very limited vehicular access.
India-Nepal has undertaken various connectivity programs to enhance people-to-people linkages and promote economic growth and development.
MOUs have been signed between both governments for laying an electric rail track linking Kathmandu with Raxaul in India.
India is looking to develop the inland waterways for the movement of cargo, within the framework of trade and transit arrangements, providing additional access to sea for Nepal calling it linking Sagarmatha (Mt. Everest) with Sagar (Indian Ocean).

Development Assistance:

The Government of India provides development assistance to Nepal, focusing on the creation of infrastructure at the grass-root level.
The areas of assistance include infrastructure, health, water resources, and education and rural & community development.

Defence Cooperation:

Bilateral defence cooperation includes assistance to the Nepalese Army in its modernisation through the provision of equipment and training.
The Gorkha Regiments of the Indian Army are raised partly by recruitment from hill districts of Nepal.
India from 2011, every year undertakes a joint military exercise with Nepal known as Surya Kiran.

Cultural:

There have been initiatives to promote people-to-people contacts in the area of art & culture, academics and media with different local bodies of Nepal.
India has signed three sister-city agreements for the twinning of Kathmandu-Varanasi, Lumbini-Bodhgaya and Janakpur-Ayodhya.

Humanitarian Assistance:

Nepal lies in the sensitive ecological fragile zone which is prone to earthquakes and floods causing massive damage to both life and money, whereby it remains the biggest recipient of India's humanitarian assistance.

Indian Community:

A huge number of Indians live in Nepal, these include businessmen, traders, doctors, engineers and labourers (including seasonal/migratory in the construction sector).

Multilateral Partnership:

India and Nepal share multiple multilateral forums such as BBIN (Bangladesh, Bhutan, India, and Nepal), BIMSTEC (Bay of Bengal Initiative for Multi Sectoral Technical and Economic Cooperation), Non Aligned Movement, and SAARC (South Asian Association for Regional Cooperation) etc.
What are the Recent Developments?
Arun-3 Hydro Electric Project:

In 2019, the cabinet also approved ₹1236 crore investments for Arun-3 hydro project.

The Arun-3 Hydro Electric project (900 MW) is a run-of-river located on Arun River in Eastern Nepal.

Build Own Operate and Transfer (BOOT):

A Memorandum of Understanding (MoU) was signed between the Government of Nepal and Sutlej Jal Vikas Nigam (SJVN) Limited for the project in 2008 for execution on a Build Own Operate and Transfer (BOOT) basis for a period of 30 years including five years of the construction period.

International Centre for Buddhist Culture and Heritage:

During the visit of the Prime Minister of India, he performed the 'shilanyas' ceremony to launch the construction of the India International Centre for Buddhist Culture and Heritage in the Lumbini Monastic Zone.
The centre will be a world-class facility welcoming pilgrims and tourists from all over the world to enjoy the essence of spiritual aspects of Buddhism.
The facility is aimed at catering to scholars and Buddhist pilgrims from all over the world who visit Lumbini.

Hydropower Projects:

The two leaders signed five agreements, including one between the Satluj Jal Vidyut Nigam (SJVN) Ltd and the Nepal Electricity Authority (NEA) for the development and implementation of the 490.2 megawatts Arun-4 hydropower project.
Nepal also invited Indian companies to invest in the West Seti hydropower project in Nepal.

Setting up a Satellite Campus:

India has offered to set up a satellite campus of the Indian Institute of Technology (IIT) in Rupandehi and has sent some draft memoranda of understanding for signing between Indian and Nepali universities.

Pancheshwar Multipurpose Project:

Nepal discussed some pending projects like the Pancheshwar Multipurpose Project, an important arm of the Mahakali Treaty signed between Nepal and India in 1996, and the West Seti Hydropower Project, a reservoir-type project with a projected capacity of 1,200 megawatts.

Cross-border Rail Link:

The operationalisation of the 35 kilometre cross-border rail link from Jayanagar (Bihar) to Kurtha (Nepal) will be further extended to Bijalpura and Bardibas.

Double Circuit Transmission Line:

Another project includes a 90 km long 132 kV double circuit transmission line connecting Tila (Solukhumbu) to Mirchaiya (Siraha) close to the Indian border.

Multilateral Projects:

Additionally, agreements providing technical cooperation in the railway sector, Nepal's induction into the International Solar Alliance, and between Indian Oil Corporation and Nepal Oil Corporation on ensuring regular supplies of petroleum products were also signed.
What are the Challenges?
Territorial Disputes: One of the main challenges in the Indo-Nepal ties is the Kalapani boundary issue. These boundaries had been fixed in 1816 by the British, and India inherited the areas over which the British had exercised territorial control in 1947.

While 98% of the India-Nepal boundary was demarcated, two areas, Susta and Kalapani remained in limbo.
In 2019, Nepal released a new political map claiming Kalapani, Limpiyadhura and Lipulekh of Uttarakhand and the area of Susta (West Champaran district, Bihar) as part of Nepal's territory.

Issues with Peace and Friendship Treaty: The 1950 Treaty of Peace and Friendship was sought by the Nepali authorities in 1949 to continue the special links they had with British India and to provide them an open border and the right to work in India.

But today, it is viewed as a sign of an unequal relationship, and an Indian imposition.
The idea of revising and updating it has found mention in Joint Statements since the mid-1990s but in a sporadic and desultory manner.

The Demonetisation Irritant: In November 2016, India withdrew Rs 15.44 trillion of high value (Rs 1,000 and Rs 500) currency notes. Today, over Rs 15.3 trillion has been returned in the form of fresh currency.

Yet, many Nepali nationals who were legally entitled to hold Rs 25,000 of Indian currency (given that the Nepali rupee is pegged to the Indian rupee) were left high and dry.
The Nepal Rashtra Bank (Central Bank of Nepal) holds Rs 7 crore and estimates of public holdings are Rs 500 crore.
India's refusal to accept demonetised bills with the Nepal Rastra Bank and the unknown fate of the report submitted by the Eminent Persons Group (EPG) has not helped in securing a better image in Nepal.

China's Intervention:

In recent years, Nepal has drifted away from India's influence, and China has gradually filled the space with investments, aid and loans.
China considers Nepal a key partner in its Belt and Road Initiative (BRI), and wants to invest in Nepal's infrastructure as part of its grand plans to boost global trade.
Rising Nepal and China cooperation can undermine Nepal's distinction of a buffer state between India and China.
China on the other hand wants to avoid the formation of any Anti-China stance by the Tibetans living in Nepal.

Internal Security: It is a major concern for India as the Indo-Nepal border is virtually open and lightly policed which is exploited by terrorist outfits and insurgent groups from North Eastern part of India eg. supply of trained cadres, fake Indian currency.
Trust & Ethenic Differeneces: Overtime trust deficit has widened between India-Nepal because of the Indian reputation for delaying implementation of various projects.

There is anti-India feeling among certain ethnic groups in Nepal which emanates from the perception that India indulges too much in Nepal and tinkers with their political sovereignty.
What can be the Way Forward?
Dialogues for Territorial Disputes: The need today is to avoid rhetoric on territorial nationalism and lay the groundwork for quiet dialogue where both sides display sensitivity as they explore what is feasible. India needs to be a sensitive and generous partner for the neighbourhood first policy to take root.
Sensitising Towards Nepal: India should engage more proactively with Nepal in terms of people to people engagement, bureaucratic engagement as well as political interactions.

It should maintain the policy of keeping away from the internal affairs of Nepal, meanwhile, in the spirit of friendship, India should guide the nation towards more inclusive rhetoric.

Strengthening Economic Ties: The power trade agreement needs to be such that India can build trust in Nepal. Despite more renewable energy projects (solar) coming up in India, hydropower is the only source that can manage peak demand in India.

For India, buying power from Nepal would mean managing peak demand and also saving the billions of dollars of investments which would have to be invested in building new power plants, many of which would cause pollution.

Investments from India: The Bilateral Investment Promotion and Protection Agreement (BIPPA) signed between India and Nepal needs more attention from Nepal's side.

The private sector in Nepal, especially the cartels in the garb of trade associations, are fighting tooth and nail against foreign investments.
It is important that Nepal conveys this message that it welcomes Indian investments.
UPSC Civil Services Examination, Previous Year's Question (PYQs)
Q. Consider the following pairs: (2016)
| | | |
| --- | --- | --- |
| | Community sometimes mentioned in the news | In the affairs of |
| 1. | Kurd | Bangladesh |
| 2. | Madhesi | Nepal |
| 3. | Rohingya | Myanmar |
Which of the pairs given above is/are correctly matched?
(a) 1 and 2
(b) 2 only
(c) 2 and 3
(d) 3 only
Ans: (c)