Urban Planning Reforms: NITI Aayog
Why in News
Recently, NITI Aayog has launched the report titled 'Reforms in Urban Planning Capacity in India'.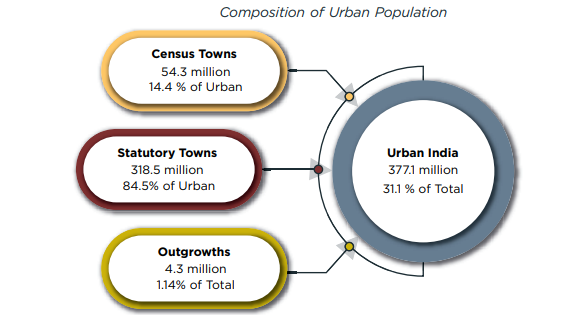 Key Points
Urbanisation in India:


Urbanisation Level (National):


India's population stood at 1210 million in 2011, with an urbanisation level of 31.1% (Census of India 2011).


Urbanisation is an increase in the number of people living in towns and cities.

The distribution of urban centres and the pace of urbanisation is not uniform across the country.


Over 75% of the urban population of the country is in 10 States: Maharashtra, Uttar Pradesh, Tamil Nadu, West Bengal, Andhra Pradesh, Gujarat, Karnataka, Madhya Pradesh, Rajasthan, and Kerala.

State-wise Scenario:


Above National Average: Goa, Tamil Nadu, Kerala, Maharashtra, and Gujarat have attained over 40% urbanisation.
Below National Average: Bihar, Odisha, Assam, and Uttar Pradesh continue to be at a lower level of urbanisation than the national average of 31.1%.
Union Territories: NCT of Delhi, Daman and Diu, Chandigarh, and Lakshadweep, show above 75% urbanisation.

Need for Reforming Urban Planning Capacity:

Recommendations:


Planning of Healthy Cities: Central Sector Scheme '500 Healthy Cities Programme', for a period of 5 years, wherein priority cities and towns would be selected jointly by the states and local bodies.


The Programme can lead to optimum utilization of urban land as well.

Re-engineering of Urban Governance: To bring in more institutional clarity and also multi-disciplinary expertise to solve urban challenges.


The formation of an apex committee at the state level is recommended to undertake a regular review of planning legislations (including town and country planning or urban and regional development acts or other relevant acts).

Strengthening the Role of the Private Sector: These include the adoption of fair processes for procuring technical consultancy services, strengthening project structuring and management skills in the public sector, and empanelment of private sector consultancies.
Measures for Strengthening Human Resource and Match Demand–Supply: The constitution of a 'National Council of Town and Country Planners' as a statutory body of the Government of India.


Also, a 'National Digital Platform of Town and Country Planners' is suggested to be created within the National Urban Innovation Stack of MoHUA.

Citizen Outreach Campaign' for demystifying urban planning.
Strengthening Urban Planning Education System.
Schemes/Programmes Related to Urban Development