India State of Forest Report-2021
For Prelims: India State of Forest Report-2021, Forest (Conservation) Act, 1980
For Mains: India State of Forest Report-2021, Need to improve the forest cover in the country, Related challenges, Initiatives taken to improve Forest Cover
Why in News
Recently, the Union Ministry of Environment, Forests and Climate Change (MoEFCC) released the India State of Forest Report-2021.
In October, 2021 an amendment was proposed by MoEFCC to the Forest (Conservation) Act, 1980 to bring significant changes to forest governance in India.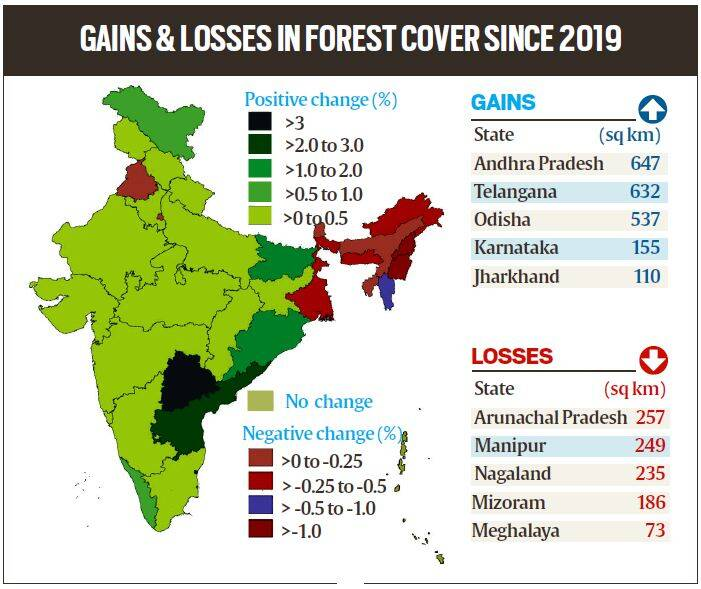 Key Points
Governments Initiatives
National Mission for a Green India:

It is one of the eight Missions under the National Action Plan on Climate Change (NAPCC).
It was launched in February, 2014 with the objective to safeguard the biological resources of our nation and associated livelihoods against the peril of adverse climate change and to recognise the vital impact of forestry on ecological sustainability, biodiversity conservation and food-, water- and livelihood-security.

National Afforestation Programme (NAP):

It has been implemented since 2000 for the afforestation of degraded forest lands.
It is being implemented by the MoEFCC.

Compensatory Afforestation Fund Management and Planning Authority, (CAMPA Funds):

Launched in 2016, 90% of the fund is to be given to the states while 10% is to be retained by the Centre.
The funds can be used for treatment of catchment areas, assisted natural generation, forest management, wildlife protection and management, relocation of villages from protected areas, managing human-wildlife conflicts, training and awareness generation, supply of wood saving devices and allied activities.

National Action Programme to Combat Desertification:

It was prepared in 2001 to address issues of increasing desertification and to take appropriate actions.
It is implemented by the Ministry of Environment, Forest and Climate Change.

Forest Fire Prevention & Management Scheme (FFPM):

It is the only centrally funded program specifically dedicated to assist the states in dealing with forest fires.