Green Financing
For Prelims: COP26 climate summit, net zero emissions by 2070, Global framework for Climate Financing, Kyoto Protocol, UNFCCC, Global Environment Fund (GEF)
For Mains: Status of Climate Financing, Climate Financing in India, Need of Green Finance and its significance.
Why in News
Recently, the Prime Minister of India COP26 climate summit announced that India will attain net zero emissions by 2070.
In order to meet these climate targets, countries like India will need approximately USD 1 trillion in additional financing over the next ten years.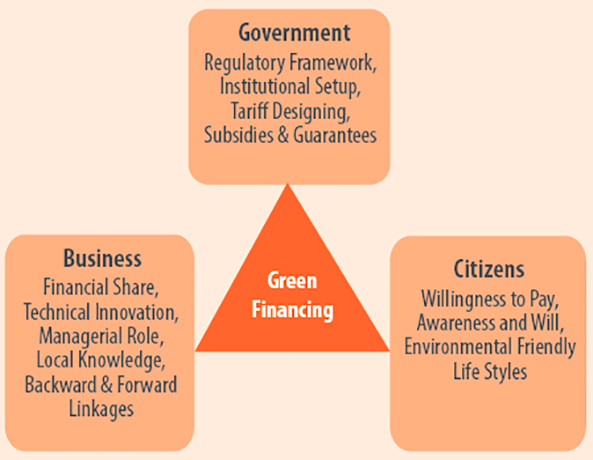 Key Points
Climate Financing in India
Financing From Domestic Resources: India's climate actions have so far been largely financed by domestic resources.

According to India's Third Biennial Update Report 2021 to the UNFCCC between 2014 and 2019, while the Global Environment Facility and Green Climate Fund has provided grants to a total of only US USD 165.25 million, the corresponding domestic mobilisation amounts to USD1.374 billion.

Funds for Green Financing: Green financing related to climate change is majorly mobilised from National Clean Energy Fund (NCEF) and National Adaptation Fund (NAF).

The Government of India also provides funding through eight missions established under the National Action Plan for Climate Change.
It has established a Climate Change Finance Unit (CCFU) in the Ministry of Finance, which is the nodal agency for all climate change financing matters.
Recent Indian Government Initiatives
Way Forward
Expanding Scope of Collaboration: Multi-stakeholder partnerships should be promoted to include major actors in financial markets, banks, investors, micro-credit entities, insurance companies along with the public sector.
Holistic Framework: Green financing could be promoted through:

Changes in countries' regulatory frameworks.
Harmonising public financial incentives.
Increases in green financing from different sectors.
Alignment of public sector financing decision-making with the environmental dimension of the Sustainable Development Goals,
Increases in investment in clean and green technologies.
Financing for sustainable natural resource-based green economies and climate smart blue economy.
Increase use of green bonds.