Climate Change 2021 Report: IPCC
Why in News
Recently, the Intergovernmental Panel on Climate Change (IPCC) released the first part of its Sixth Assessment Report (AR6) titled Climate Change 2021: The Physical Science Basis.
It is prepared by the scientists of Working Group-I. The two remaining parts would be released in 2022.
It noted that global net-zero by 2050 was the minimum required to keep the temperature rise to 1.5 degree Celsius.
It sets the stage for the Conference of Parties (CoP) 26 conference in November 2021.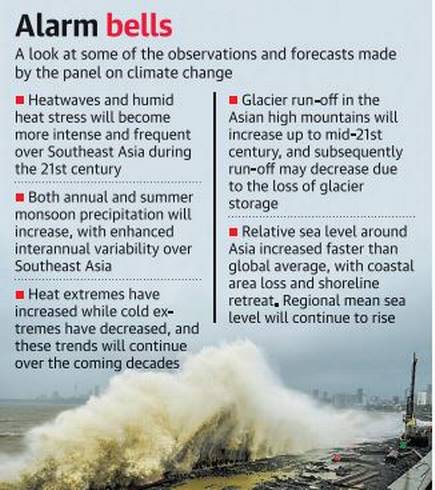 Key Points
Intergovernmental Panel on Climate Change
IPCC Assessment Reports
Every few years (about 7 years), the IPCC produces assessment reports that are the most comprehensive scientific evaluations of the state of earth's climate.
So far, five assessment reports have been produced, the first one being released in 1990. The fifth assessment report had come out in 2014 in the run up to the climate change conference in Paris.
The Assessment Reports - by three working groups of scientists.


Working Group-I - Deals with the scientific basis for climate change.
Working Group-II - Looks at the likely impacts, vulnerabilities and adaptation issues.
Working Group-III - Deals with actions that can be taken to combat climate change.
Way Forward
Climate change is described by many as a far greater threat to humanity than Covid-19, because of its irreversible impacts. Many of the impacts such as sea level rise and melting of glaciers will continue for many years.
There is a need for a drastic and immediate cut in carbon emissions, given that the changes to the climate already made are not reversible.
All nations, especially the G20 and other major emitters, need to join the net-zero emissions coalition and reinforce their commitments with credible, concrete and enhanced Nationally Determined Contributions and policies before COP26 in Glasgow, Scotland.