Economic Relief Package after Covid- Second Wave
Why in News
Recently, the Ministry of Finance announced a slew of measures to provide relief to diverse sectors affected by the second wave of Covid-19 pandemic.
It aims to prepare the health systems for emergency response and provide impetus for growth and employment. However it will increase the Fiscal Deficit by 0.6% as per a report of State Bank of India.
A total of 17 measures amounting to Rs. 6,28,993 crore were announced in the Economic Relief Package.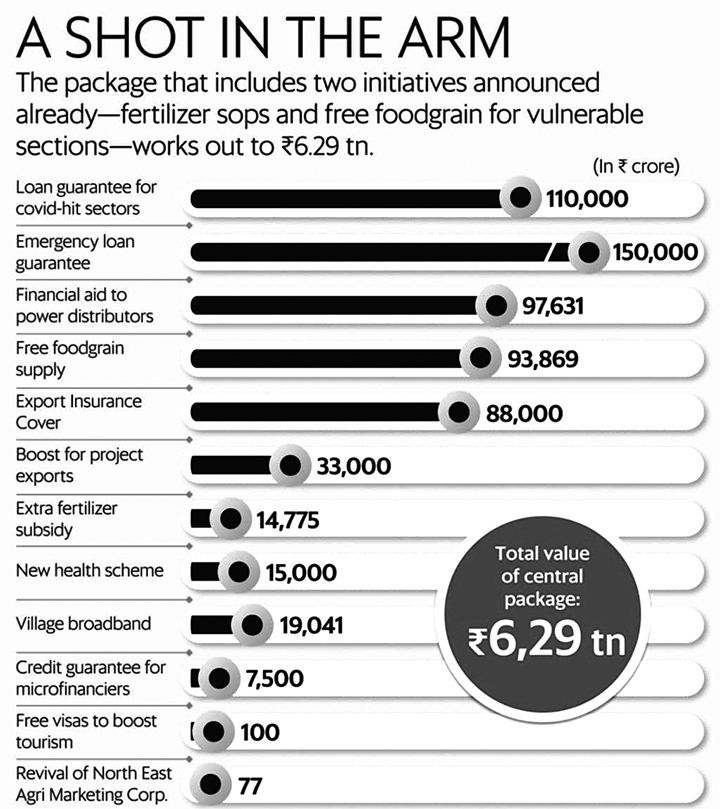 Key Points
Economic Relief from Pandemic:

Strengthening Public Health:


New Scheme for Children and Paediatric Care:


A new scheme for strengthening public health infrastructure and human resources with outlay of Rs. 23,220 crore was also announced.
It will focus on short term emergency preparedness with special emphasis on children and paediatric care/paediatric beds.

Growth & Employment:


Free one month tourist visa to 5 lakh tourists.
Additional Subsidy for DAP & P&K fertilizers.
Climate Resilient Special Traits Varieties:


Indian Council of Agricultural Research (ICAR) has developed biofortified crop varieties having high nutrients like protein, iron, zinc, vitamin-A.
These varieties are tolerant to diseases, insects, pests, drought, salinity, and flooding, early maturing and amenable to mechanical harvesting also developed.
21 such varieties of rice, peas, millet, maize, soyabean, quinoa, buckwheat, winged bean, pigeon pea & sorghum will be dedicated to the nation.

Revival of North Eastern Regional Agricultural Marketing Corporation :

Boost for Project Exports:


It has been decided to provide an additional corpus to the National Export Insurance Account (NEIA) over 5 years. This will enable it to underwrite additional Rs. 33,000 crore of project exports.


NEIA Trust promotes Medium and Long Term (MLT) project exports by extending risk covers.
It provides cover to buyer's credit, given by EXIM (Export-Import) Bank, to less credit-worthy borrowers and supporting project exporters.

Boost to Export Insurance Cover:

Digital India:


Additional Rs. 19,041 crore will be provided to implement Bharat Net in PPP model in 16 States on viability gap funding basis.
This will enable expansion and upgradation of Bharat Net to cover all Gram Panchayats and inhabited villages.

Extension of PLI Scheme:

Reform-Based Result-Linked Power Distribution Scheme:

New streamlined process for PPP Projects and Asset Monetization:


A new policy will be formulated for appraisal and approval of Public-Private Partnerships (PPP) proposals and monetization of core infrastructure assets, including through Infrastructure Investment Trusts (InvITs).
The policy will aim to ensure speedy clearance of projects to facilitate private sector's efficiencies in financing construction and management of infrastructure.
Significance of the Package
It would usher in much-needed liquidity and help revive the employment-intensive sectors such as tourism.
It will help save livelihoods and mitigate further closures and also create new job opportunities.
It will bolster efforts for any such healthcare challenges in the future.
It will enable the Covid-affected Sectors to rise from the challenges they had faced over the past year and a half.
The liquidity for small businesses could indirectly revive the fortunes of larger industries they source from and help repair broken supply chains.