For Prelims: Web 3.0, Blockchain Technology, Augmented Reality, Virtual Reality, IoT, Cryptocurrency, Non-fungible tokens, E-commerce, Cybercrime, Genome Sequencing
For Mains: Pros and Cons of Web 3.0, Future Applications and Opportunity for India
Web 3.0 is the third iteration of the internet based on Blockchain Technology. The goal of Web 3.0 is to create an intelligent, autonomous, connected, and open internet. As we move towards Web 3.0, one major trend is expected to be decentralisation. In essence, it is a concept that transfers power from a single person or body to the masses.
India has been one of the early proponents of Web 3.0 technology. According to the Cryptotech Industry in India 2021 report by NASSCOM and WazirX, India is home to more than 230 Web 3.0 start-ups already.
With the advancement of internet technology with Web 3.0, there is a significant probability of technology becoming weaponized, cyber threats becoming more prevalent, and challenges to national security may arise. Therefore, it is vital to examine Web 3.0 closely for its future viability and sustainability.
What are the Different Versions of Web?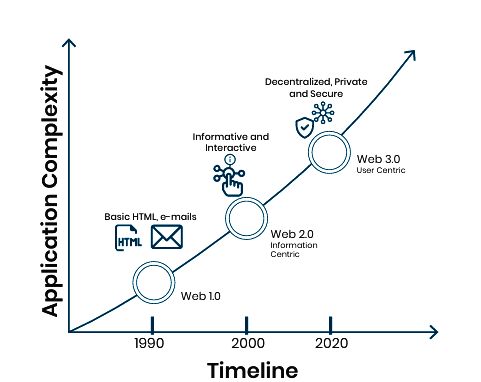 What are the Pros of Web 3.0?
What are the Cons of Web 3.0?
What Should be the Way Forward?
Drishti Mains Question
Discuss how India can leverage the potential of Web 3.0 for its domestic socio-economic development.
---