Sedition Law
Why in News
Recently, the Supreme Court protected a political leader and six senior journalists from arrest in multiple sedition FIRs registered against them.
Key Points
Historical Background of Sedition Law:


Sedition laws were enacted in 17th century England when lawmakers believed that only good opinions of the government should survive, as bad opinions were detrimental to the government and monarchy.
The law was originally drafted in 1837 by Thomas Macaulay, the British historian-politician, but was inexplicably omitted when the Indian Penal Code (IPC) was enacted in 1860.
Section 124A was inserted in 1870 by an amendment introduced by Sir James Stephen when it felt the need for a specific section to deal with the offence.


It was one of the many draconian laws enacted to stifle any voices of dissent at that time.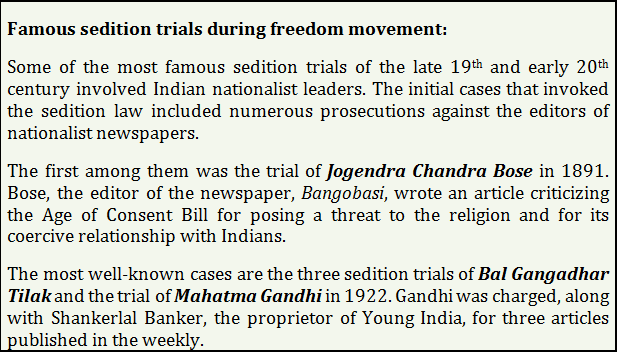 Way Forward
India is the largest democracy of the world and the right to free speech and expression is an essential ingredient of democracy. The expression or thought that is not in consonance with the policy of the government of the day should not be considered as sedition.
Section 124A should not be misused as a tool to curb free speech. The SC caveat, given in Kedar Nath case, on prosecution under the law can check its misuse. It needs to be examined under the changed facts and circumstances and also on the anvil of ever-evolving tests of necessity, proportionality and arbitrariness.
The higher judiciary should use its supervisory powers to sensitize the magistracy and police to the constitutional provisions protecting free speech.
The definition of sedition should be narrowed down, to include only the issues pertaining to the territorial integrity of India as well as the sovereignty of the country.
The word 'sedition' is extremely nuanced and needs to be applied with caution. It is like a cannon that ought not to be used to shoot a mouse; but the arsenal also demands possession of cannons, mostly as a deterrent, and on occasion for shooting.