Graded Response Action Plan (GRAP)
Why in News
Recently, the Commission for Air Quality Management (CAQM) has said that the measures under the "very poor" and "severe" category of the Graded Response Action Plan (GRAP) will kick in only when the air quality deteriorates further and stays in prescribed levels for 48 hours.
Key Points
Graded Response Action Plan (GRAP):


About:


In pursuant to the Supreme Court's order in the matter of M. C. Mehta vs. Union of India (2016) regarding air quality in the National Capital Region of Delhi, a Graded Response Action Plan has been prepared for implementation under different Air Quality Index (AQI) categories namely, Moderate & Poor, Very Poor, and Severe.


A new category of "Severe+ or Emergency" has been added.

The Plan was notified by the Ministry of Environment, Forests & Climate Change in 2017.
It institutionalised measures to be taken when air quality deteriorates.


The plan is incremental in nature - therefore, when the air quality moves from 'Poor' to 'Very Poor', the measures listed under both sections have to be followed.
It prevents PM10 and PM2.5 levels from going beyond the 'moderate' national AQI category.

Implementation:


Till 2020, the Supreme Court-appointed Environment Pollution (Prevention & Control) Authority (EPCA) used to order States to implement GRAP measures.
The EPCA was dissolved and replaced by the Commission for Air Quality Management (CAQM) in 2020.


CAQM is a statutory mechanism to coordinate and oversee diverse efforts to improve air quality in Delhi, Punjab, Haryana, Rajasthan and UP, with the underlying remedial approach.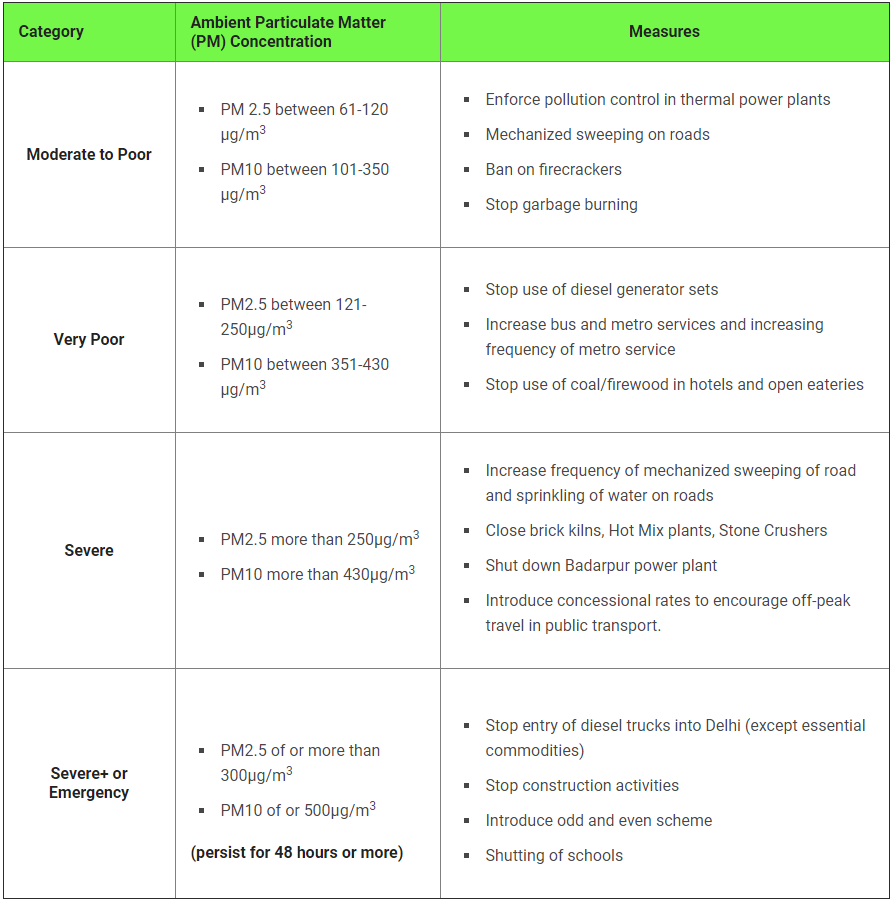 Other Measures:


Environment Protection Charge (EPC): In 2016, the SC imposed an EPC of 1% on the sale of 2000cc and above diesel cars in Delhi and NCR.
Environment Compensation Charge (ECC): In the year 2015, the SC imposed ECC on trucks entering Delhi.