Economic Survey 2022
For Prelims: Economic Data, Important Economic Terms, Economic Survey, Asian Development Bank, World Bank, IMF, Various Government Schemes.
For Mains: Growth & Development,Monetary Policy, Planning, Capital Market, Fiscal Policy, Banking Sector & NBFCs, Inclusive Growth, Economic Survey, Related Concerns, Suggestions.
Why in News?
Recently, the Economic Survey 2021-22 was tabled in Parliament by the Finance Minister soon after the President's address to both Houses of Parliament.
The central theme of this year's Economic Survey is the "Agile approach".
This year's survey uses various examples to highlight the use of satellite and geospatial data to reflect the infrastructural growth in the country.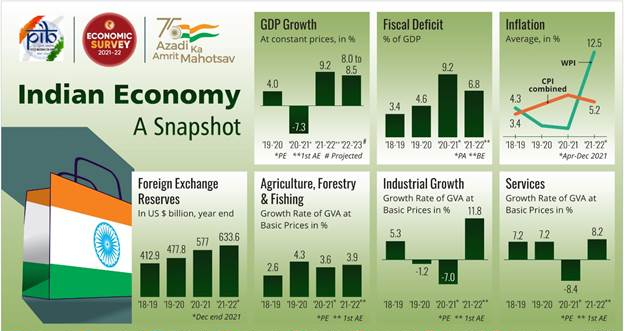 What is the Economic Survey?
The Economic Survey of India is an annual document released by the Ministry of Finance.
It contains the most authoritative and updated source of data on India's economy.

It is a report that the government presents on the state of the economy in the past one year, the key challenges it anticipates, and their possible solutions.

It is prepared by the Economics Division of the Department of Economic Affairs (DEA) under the guidance of the Chief Economic Advisor.
It is usually presented a day before the Union Budget is presented in the Parliament.

The first Economic Survey in India was presented in the year 1950-51. Up to 1964, it was presented along with the Union Budget. From 1964 onwards, it has been delinked from the Budget.
What are the Key Points of the Economic Survey 2021-22?