Year End Review 2019: Ministry of Culture
Important Events
Commemoration of the 150th Birth Anniversary of Mahatma Gandhi
Sanskriti Kumbh
A 29 days cultural extravaganza was organised at Kumbh Mela Area, Prayagraj in January 2019 to showcase the rich Cultural Heritage of India in all its rich and varied dimensions viz. Performing Arts- Folk, Tribal and Classical art forms, Handicrafts, Cuisines, Exhibitions etc. all in one place.
Bharat Rang Mahotsav
The 20th edition of Bharat Rang Mahotsav (BRM), the international theatre festival of India, was organized by National School of Drama.
Jaipur- India's 38th UNESCO World Heritage Site
India's nomination of the Jaipur City, Rajasthan got inscribed on 6th July, 2019 on the World Heritage List of UNESCO during the 43rd Session of the World Heritage Committee held at Baku, Azerbaijan.
With Successful inscription of Jaipur City, India has 38 world heritage sites that include 30 Cultural properties, 7 Natural properties and 1 mixed site.
UNESCO's World Heritage Sites of India
Tangible Heritage
Intangible Cultural Heritage
Cultural
Natural
Mixed
Indian Intangible Cultural Heritage of Humanity


Taj Mahal, Agra
Khajuraho, Madhya Pradesh
Hampi, Karnataka
Ajanta Caves, Maharashtra
Ellora Caves, Maharashtra
Bodh Gaya, Bihar
Sun Temple, Konark, Odisha
Red Fort Complex, Delhi
Sanchi, Madhya Pradesh
Chola Temples, Tamil Nadu
Group of Monuments at Mahabalipuram, Tamil Nadu
Humayun's Tomb, New Delhi
Jantar Mantar, Jaipur, Rajasthan
Agra Fort, Uttar Pradesh
Fatehpur Sikri, Uttar Pradesh
Rani Ki Vav, Patan, Gujarat
Group of Monuments at Pattadakal, Karnataka
Elephanta Caves, Maharashtra
Nalanda Mahavihara (Nalanda University), Bihar
Chhatrapati Shivaji Maharaj Terminus (formerly Victoria Terminus), Maharashtra
Mountain Railways of India
Qutub Minar and its Monuments, New Delhi
Champaner-Pavagadh Archaeological Park, Gujarat
Hill Forts of Rajasthan
Churches and Convents of Goa
Rock Shelters of Bhimbetka, Madhya Pradesh
Capitol Complex, Chandigarh
The Historic City of Ahmedabad
The Victorian and Art Deco Ensemble of Mumbai

Great Himalayan National Park, Himachal Pradesh
Kaziranga Wild Life Sanctuary, Assam
Keoladeo National Park, Bharatpur, Rajasthan
Manas Wild Life Sanctuary, Assam
Nanda Devi and Valley of Flowers National Parks, Uttarakhand
Western Ghats
Sundarbans National Park, West Bengal

Khangchendzonga National Park, Sikkim

The tradition of Vedic chanting
Ramlila, the traditional performance of the Ramayana
Kutiyattam, Sanskrit theatre
Ramman, religious festival and ritual theatre of the Garhwal Himalayas, India
Mudiyettu, ritual theatre and dance drama of Kerala
Kalbelia folk songs and dances of Rajasthan
Chhau dance
Buddhist chanting of Ladakh: recitation of sacred Buddhist texts in the trans-Himalayan Ladakh region, Jammu and Kashmir, India
Sankirtana, ritual singing, drumming and dancing of Manipur
Traditional brass and copper craft of utensil making among the Thatheras of Jandiala Guru, Punjab, India
Yoga
Navroz
Kumbh Mela
Commemoration event of '76th Year of Formation of Azad Hind Government'
The 76th anniversary of the formation of the Azad Hind Government was celebrated on 21st October, 2019, at the Red Fort, Delhi.
On 21st October 1943, Subhash Chandra Bose announced the formation of the Provisional Government of Azad Hind (Free India) in Singapore, with himself as the Head of State, Prime Minister and Minister of War.
The Provisional Government not only enabled Bose to negotiate with the Japanese on an equal footing but also facilitated the mobilisation of Indians in East Asia to join and support the Indian National Army (INA).
Mumbai and Hyderabad: UNESCO's Creative Cities Network (UCCN)
Jallianwala Bagh National Memorial (Amendment) Bill, 2019 Passed by Parliament
It seeks to make apolitical the trust that runs Jallianwala Bagh National Memorial by removing the clause pertaining to the President of INC as a permanent member of the trust.
The Bill also amends to include the Leader of Opposition recognised as such in the House of the People (LokSabha) or where there is no such Leader of Opposition, then the Leader of the single largest Opposition Party in that House as a member of the trust.
Records Relating to Netaji Subhash Chandra Bose and Azad Hind Fauj De-classified
All records relating to Netaji Subhash Chandra Bose and Azad Hind Fauj de-classified and were placed in the National Archives of India.
Netaji Subhas Chandra Bose (23 January 1897 – 18 August 1945) is one of the most celebrated freedom fighters of India.
In 1942, he earned the title 'Netaji', in Germany by the Indian soldiers of the Azad Hind Fauj.
He is also credited to be the first man to call Mahatma Gandhi "Father of the Nation", in his address from Singapore.
Important Sites
Markandeshwar Temple, Maharashtra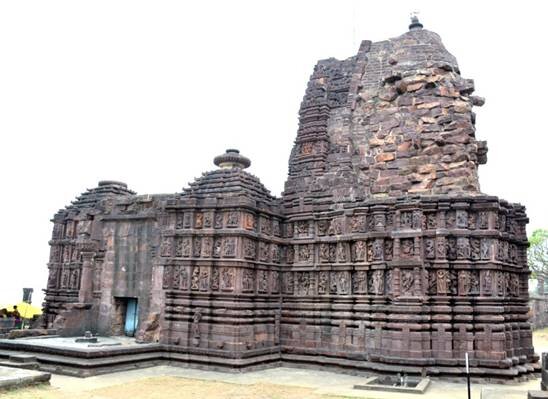 Archaeological Survey of India initiated the restoration work of Markandeshwar temple in Maharashtra.

Known as the "Khajuraho of Vidarbha", the temple of Markandadeo is situated on the bank of River Wainganga in district Gadchiroli of Maharashtra.
Phupgaon, Maharashtra
The recent excavation carried out by Archaeological Survey of India (ASI) at Maharashtra's Phupgaon has revealed evidence of an Iron Age settlement in the Vidarbha region.
The site is situated in the vast meander of the river Purna, a major tributary of Tapi, which used to be a perennial river, but at present is completely dried-up due to the dam construction in the upper stream.
Chronologically, the site could be placed between 7th C BCE and 4th C BCE.
Excavations indicate it as a Trade Centre of Early Historic Period.
The site lies on the right bank of a distributary of river Swarnamukhi.
The proximity of the site (at southern coastal location) to the seacoast suggests that the site could have served as a strategic settlement involved in maritime trade.
Among many other antiquities unearthed are one life-size Vishnu sculpture and a wide variety of pottery of the early centuries of current era.