Tulagi Island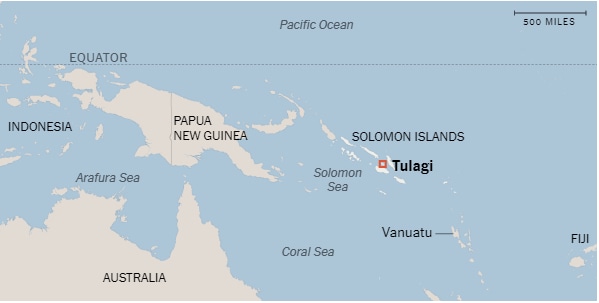 A Beijing-based company which has close ties to the Chinese Communist Party has secured exclusive development rights for the entire island of Tulagi and its surroundings.
It has been reported that a secretive deal was signed in the month of September 2019 with the provincial government in the Solomon Islands, for the same.
Tulagi is an island within the Solomon Islands, which are located in the South Pacific, directly between Australia and the U.S.


It was the administrative seat (from 1893) of the British Solomon Islands Protectorate until it was destroyed by the Japanese (1942) during World War II.

The move has alarmed U.S. officials who see the island chains of the South Pacific as crucial to keep China in check and protect important sea routes.
The agreement includes provisions for a fishery base, an operations centre, and the building or enhancement of the airport.
China is also pushing to end the region's status as a diplomatic stronghold for Taiwan.


The Solomons cut ties to Taiwan and allied with Beijing just a few days before the Tulagi deal. A second Pacific nation, Kiribati, followed suit the same week.