Peace in North East India
For Prelims: North East India, Key Agreements in North East India, Armed Forces Special Powers Act, Operations to Bring Back Indians in Distress
For Mains: Key Peace Developments in North East India, Significance of North East India, Initiatives for Development of North East India
Why in News?
Recently, the Union Government has reported that there has been an 80% decline in civilian deaths and 6,000 militants have surrendered in North East India since 2014.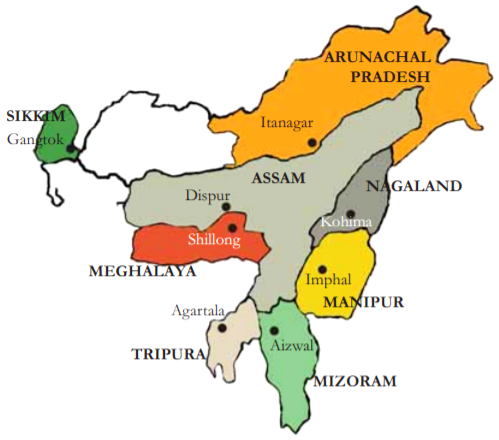 What are the Key Peace Developments in North East India?
What is the Significance of North East for India?
What are the Government's Other Initiatives for the North East?
Infrastructure:
Connectivity:

India-Myanmar-Thailand Trilateral Highway

Tourism:
Other:
UPSC Civil Services Examination, Previous Year Question (PYQ)
Prelims
Q. Which Schedule of the Constitution of India contains special provisions for the administration and control of Scheduled Areas in several States? (2008)
(a) Third
(b) Fifth
(c) Seventh
(d) Ninth
Ans: (b)
---
Mains
Q1. Human rights activists constantly highlight the fact that the Armed forces (Special Powers) Act, 1958 (AFSPA) is a draconian act leading to cases of human rights abuses by security forces. What sections of AFSPA are opposed by the activists? Critically evaluate the requirement with reference to the view held by the Apex Court. (2015)
Q2. The North-East region of India has been infested with insurgency for a very long time. Analyze the major reasons for the survival of armed insurgency in this region. (2017)