Switch To Hindi
Mukundara Hills Tiger Reserve
Location: The Mukundra Tiger Reserve (TR) is located near Kota, Rajasthan.


The park is situated in a valley formed by two parallel mountains viz. Mukundra and Gargola.
The 4 rivers (Ramzan, Ahu, Kali and Chambal) form the boundary of the valley.
It is located on the eastern bank of the Chambal River and is drained by its tributaries.

Protected Area: The Mukundra Hills was declared a Wildlife Sanctuary in 1955 and a National Park (Mukundra Hills (Darrah) National Park) in 2004.


It was notified as a Tiger Reserve (2013) under the Wildlife Protection Act, 1972 and became the 3rd Tiger Reserve of Rajasthan in the form of the Mukundra Hills Tiger Reserve.
Other Tiger Reserves in Rajasthan: Ranthambore and Sariska.

History: In the past, the reserve was the royal hunting ground of the Maharaja of Kota. The name Darrah is taken as the 'pass' in the local language revealing the purpose that the region served earlier. The Marathas, Rajput's and the British utilized the opportune position of the forest to seek asylum during war.
Parks and Sanctuaries Included: The Mukundra TR constitutes 3 Wildlife Sanctuaries viz; Darrah, Jawahar Sagar and Chambhal and covers 4 key districts of Rajasthan (Kota, Bundi, Chittorgarh and Jhalawar). The forest of the reserve is very thick and dense.
Other National Parks (NP) in Rajasthan: Desert NP, Keoladeo Ghana NP, Ranthambore NP, Sariska NP.
Chambal River
Chambal River originates at the Singar Chouri peak in the northern slopes of the Vindhya mountains (Indore, Madhya Pradesh). From there, it flows in the North direction in Madhya Pradesh and then follows a north-easterly direction through Rajasthan.
It enters Uttar Pradesh and joins the Yamuna River in Etawah District.
It is a rainfed river and its basin is bounded by the Vindhyan mountain ranges and the Aravallis. The Chambal and its tributaries drain the Malwa region of northwestern Madhya Pradesh.
Tributaries: Banas, Kali Sindh, Parbati.
It is one of the most pollution-free rivers of India.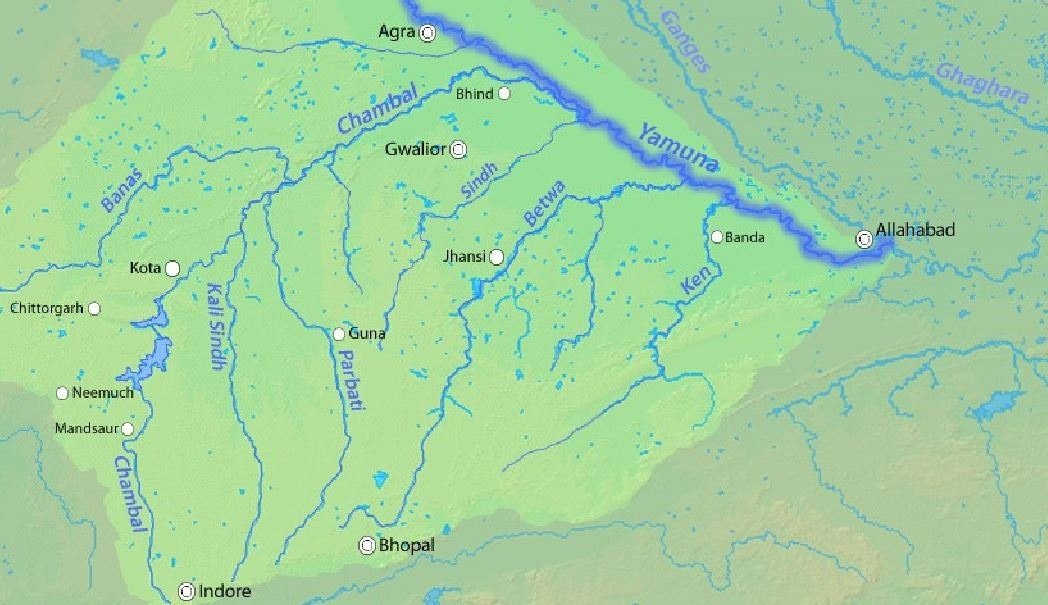 Tiger Reserves in India