Atal New India Challenge 2.0
Why in News?
Atal Innovation Mission launched the phase 1 of the 2nd edition of the Atal New India Challenge (ANIC 2.0).
ANIC 1.0 was launched in 2018 for the clarion call to bring innovations and technologies relevant to the people.
What is Atal New India Challenge?
About:

Atal New India Challenge is a flagship program of Atal Innovation Mission, NITI Aayog.
The program aims to seek, select, support and nurture technology-based innovations that solve sectoral challenges of national importance and societal relevance.
ANIC solicits innovations in the prototype stage and supports the selected start-ups through to the commercialization stage over a course of 12 – 18 months.

Vision:

Help create products from existing technologies that solve problems of national importance and societal relevance (productization)
Help new solutions find markets and early customers (commercialization) in the context of India.

Objectives:

To incentivize innovations in areas critical to India's development and growth – Education, Health, Water and Sanitation Agriculture, Food Processing, Housing, Energy, Mobility, Space Application etc.
To address the Commercialization Valley of Death (Gap between the research and commercialization) - supporting innovators scale over the risks associated with access to resources for testing, piloting and market creation.

ANIC 1.0:

ANIC 1.0 followed an open innovation challenge format where challenge statements were put out in the public domain and a call for application was made.
The winning start-ups / individual innovators are supported through a tranche-based grant-in-aid of up to Rs.1 crore and through AIM's innovation network.

ANIC 2.0:
What is Atal Innovation Mission?
AIM is Government of India's flagship initiative to promote a culture of innovation and entrepreneurship in the country.
Its objective is to develop new programmes and policies for fostering innovation in different sectors of the economy, provide platform and collaboration opportunities for different stakeholders, create awareness and create an umbrella structure to oversee the innovation ecosystem of the country.
Major Initiatives:

Atal Tinkering Labs: These are creating problem solving mindset across schools in India.
Atal Incubation Centers: Fostering world class startups and adding a new dimension to the incubator model.
Atal New India Challenges: Fostering product innovations and aligning them to the needs of various sectors/ministries.
Mentor India Campaign: A national mentor network in collaboration with the public sector, corporates and institutions, to support all the initiatives of the mission.
Atal Community Innovation Center: To stimulate community centric innovation and ideas in the unserved/underserved regions of the country including Tier 2 and Tier 3 cities.
Atal Research and Innovation for Small Enterprises (ARISE): To stimulate innovation and research in the MSME industry.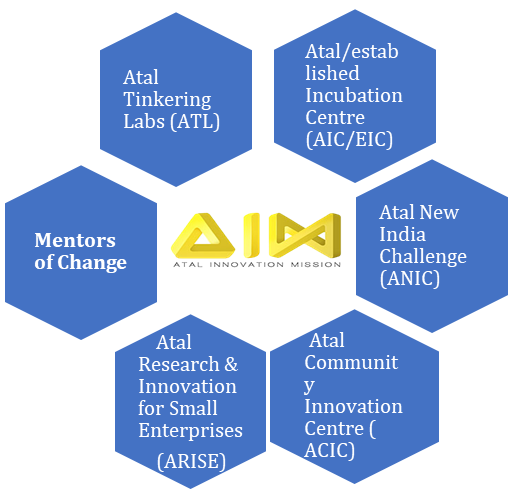 UPSC Civil Services Exam Previous Year Questions
Q. Atal Innovation Mission is set up under the (2019)
(a) Department of Science and Technology
(b) Ministry of Labour and Employment
(c) NITI Aayog
(d) Ministry of Skill Development and Entrepreneurship
Ans: (c)