Why in News?
On 24 March 2023, Prime Minister Narendra Modi inaugurated the One World TB Summit - 2023 at the Rudraksha Convention Center in Varanasi, Uttar Pradesh.
Key Points
The One World TB Summit - 2023 was attended online by several state governors, several state health secretaries and managing directors of the National Health Mission.
The event, also attended by representatives from companies, industries, civil society, NGOs and TB champions, who reiterated India's commitment to eliminate the highly infectious disease by 2025, five years ahead of the global target of 2030.
The Prime Minister released the 'Annual India TB Report 2023', a compilation of the country's efforts towards making India TB free by 2025.
A training module on Pulmonary Tuberculosis was also launched at the event. This module has been developed to train health workers at the secondary and tertiary levels in the public and private sector in India.
The Prime Minister also launched the TB-Free Panchayat Initiative to leverage the support of over 2.5 lakh gram panchayats to raise awareness about TB, to eliminate the stigma associated with the disease, and to help monitor and improve services. Preventive therapy has also been introduced as a new treatment to prevent TB infection so that the spread of the disease can be stopped.
Apart from this, a family-centred care model was also announced to ensure the welfare of families affected by TB.
Narendra Modi also laid the foundation stone of the National Center for Disease Control and High Control Laboratory in Varanasi and inaugurated the site for the Metropolitan Public Health Surveillance Unit.
On the occasion, the Prime Minister also felicitated the states and districts for making significant progress on key program indicators to eliminate TB. Karnataka and the Union Territory of Jammu and Kashmir were honored in the States/UTs category and Nilgiris (Tamil Nadu), Pulwama (Jammu and Kashmir) and Anantnag (Jammu and Kashmir) were given district level awards.
At the event, Narendra Modi pointed out that the ICMR institutes like National Institute for Research in Tuberculosis (NIRT) have completed the world's largest national TB infection survey, which helped in understanding the TB burden at the state level for targeted programmatic activities.
India is the only country in the world to implement the Sub-National Certification (SNC) function. It is an innovative scientific method through which districts are verified for their TB eradication progress.
The Prime Minister also informed that under the Direct Benefit Transfer (DBT) scheme for TB patients, an amount of more than Rs 2,000 crore has been transferred to the accounts of more than 75 lakh TB patients.
Significantly, in March 2018, Prime Minister Narendra Modi committed to eliminate TB from India by 2025, while the rest of the world aims to achieve the TB-related Sustainable Development Goals (SDGs) by 2030.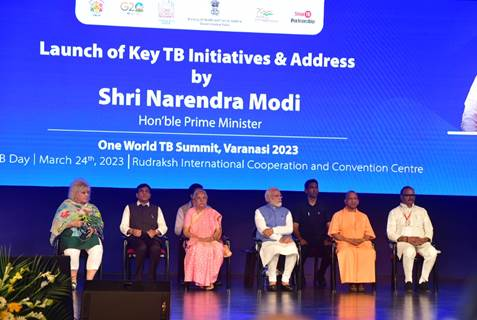 ---
Why in News?
On 24 March 2023, in the meeting of the Board of Directors, chaired by Dr. Dularam Saharan, President of Rajasthan Sahitya Akademi, annual awards for the year 2022-23 were announced to express commitment towards the upliftment, promotion, encouragement and honour of resident and migrant writers of Rajasthan province.
Key Points
Academy Secretary Dr. Basant Singh Solanki told in the meeting that the Meera Award for the year 2022-23 will be given to Rati Saxena, a native of Jaipur and a resident of Thiruvananthapuram (Kerala), for the poetry book 'Hansi Ek Prarthana'.
It is noteworthy that this is the highest award of the Academy with an amount of seventy-five thousand rupees.
The Janardan Rai Nagar Samman of one lakh rupees, courtesy of the Government of Rajasthan, will be given to Ajmer resident Dr. Chandra Prakash Deval for the year 2022-23. This decision was taken in the meeting of Samman Samiti held in Jaipur recently.
Under the annual awards for the year 2022-23, the Rangeya Raghav Award, given in the fiction and novel genre, will be given to Bharat Chandra Sharma, a resident of Banswara, for the novel 'Pir Parbat-Si'.
Sudhindra Award for poetry has been announced for Jaipur's poet Mayamrig for his collection of poems 'Mujhme Meetha Tu Hain' and Devi Lal Samar Award for one-act play has been announced for Jaipur resident Ajay Anuragi for his play 'Wrong Number'.
The prestigious Devraj Upadhyay Award in the field of criticism will be given to Bharatpur-based Rajaram Bhadu's critic's work 'Dimensions of Poetry' and the Kanhaiyalal Sahal Award under various genres will be given to Jaipur's satirist Yash Goyal for his work 'Namumkin Neta'.
The Shambhudayal Saxena Award in the field of children's literature will be given to Kusum Agarwal of Kankroli for the children's one-act book 'Hum Sab Ek Hain'.
All the above awards are of twenty-one thousand rupees.
According to Secretary Dr. Basant Singh Solanki, the Sumnesh Joshi Award for the first published work amounting to twenty-one thousand rupees will be given to Udaipur resident story writer Tarana Parveen for her story collection 'Ek Sau Aath'.
In the meeting, school and college level awards started by the academy keeping in mind the campaign to prepare young writers were announced after approval from the directorate.
School Level Pardeshi Award for Poetry to Prachi Sharma of Maharani Gayatri Devi Girls School, Jaipur for 'Sagar Moti and other poems'; Pardeshi Story Award to Divya Vintaman Sanap of Jawahar Navodaya Vidyalaya, Pallu-Hanumangarh for the story 'Khushi ke Aansoo'; Foreign Essay Award to Harshita Meena of Raumavi Amarpura-Udaipur for the essay 'Emergence of Innovations' and the Foreigner Short Story Award will be given for the short story 'Asli Takt' by Armaan Nadeem of Rajkiya Sardul Umavi Bikaner.
College-level Chandradev Sharma Poetry Award to Himanshu Bhardwaj of Government Lohia College, Churu for 'Spriha and other poems'; Chandradev Sharma Story Award to Nirmala Sharma of Twenty One College Gopalyan-Lunkaransar for the story 'Koi Chara Nahi'; Chandradev Sharma One Act Award for Maa Jalpa Devi Government College Taranagar's Tanishka Padihar's one act 'Jago Pyare, Jaago' and Chandradev Sharma Essay Award will be given to Maina Kanwar of Sonadevi Sethia Girls College, Sujangarh for the essay 'Past and Prospects'.
Sudha Gupta College Level Poetry Award will be given to Suraj Kumari of Women's Post Graduate College, Jodhpur for 'Voice of Nature and other poems'.
It is noteworthy that under all the above awards, five thousand rupees are given per award.
Special literary honors to be given by the Academy were also announced in the meeting of the Director.
Distinguished Writer Award for the year 2022-23 will be given to Ajanta Dev-Jaipur, Atul Chaturvedi-Kota, Dr. Anita Verma-Kota, Kusum Meghwal-Udaipur, Kailash Manhar-Manoharpura, Gopal Mathur-Ajmer, Gordhan Singh Shekhawat-Sikar, Javarimalla Parakh-Jodhpur, Jeevan Singh Manvi-Alwar, Farooq Afridi-Jaipur, Bakshish Singh-Ajmer, Dr. Mahendra Bhanawat-Udaipur, Malchand Tiwari-Bikaner, Rajan Nirmohi Java-Jodhpur, Dr. Ramkumar Ghotad-Sadulpur, Ramswaroop Kisan-Parlika, Rajendra Kaswan-Jhunjhunu, Revathiraman Sharma-Alwar, Shivraj Chhangani-Bikaner, Vidya Paliwal-Udaipur, Dr. Satyanarayan-Jodhpur, Savitri Chowdhary-Jaipur, Habib Kaifi-Jodhpur, Hariram Meena-Bamanwas, Hasan Jamal-Jodhpur.
Under this honour, an amount of fifty-one thousand rupees will be given to each.
Many other decisions taken in the executive meeting-
Many books will be published under the Academy's 'Rajasthan Sahityakar Prastuti Yojana' and 'Purodha Shrinkhla', while all pending books will also be published.
There will be publication of independent books focused on poetry, story, essay, woman-discussion, Dalit-discussion, tribal-discussion, youth literature, children's literature, drama. The Gandhi special issue and Nehru special issue of Academy's magazine Madhumati will also be published in book form.
It was also decided to publish the award and release of various schemes for the coming year.