Trigonopterus Corona
Why in News
Recently, scientists have discovered a new species of beetle named Trigonopterus corona on the Indonesian island of Sulawesi.
It is not the only insect species to be named after the pandemic. In April 2021, a new species of caddisfly (a moth-like insect) was collected near a stream in Kosovo, and named Potamophylax coronavirus.
Key Points
It has been named on pandemic which reflects the large impact of the Covid-19 pandemic on this project.


The researcher had been studying this genus (Trigonopterus) for the past 15 years and was delayed because Covid-19 pandemic hit.

Trigonopterus is a hyperdiverse genus of flightless hidden-snout weevils (Cryptorhynchinae) ranging over the Indo-Australian-Melanesian archipelago.


Weevils are often called flour bugs because that is where they are frequently found, they are a type of beetle with an elongated snout.

The genus Trigonopterus originated in Northern Australia and rapidly diversified in New Guinea before colonizing Sulawesi and dispersing further west to Sundaland (a bio-geographical area of south-eastern Asia).
Island of sulawesi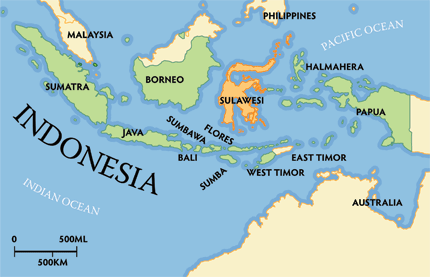 It is one of the four Greater Sunda Islands of Indonesia. It is a curiously shaped island with four distinct peninsulas that form three major gulfs, Tomini (the largest) on the northeast, Tolo on the east, and Bone on the south.


The island group features the islands of Java, Sumatra, Borneo, and Sulawesi.

The island is highly mountainous, with some active volcanoes, but there are large plains on the southern peninsula and in the south-central part of the island on which rice is grown.
The highest peak is Mount Rantekombola, or Mario, at 11,335 feet.