Pegasus Spyware
Why in News
Recently, it has been reported that Pegasus, the malicious software, has allegedly been used to secretly monitor and spy on an extensive host of public figures in India.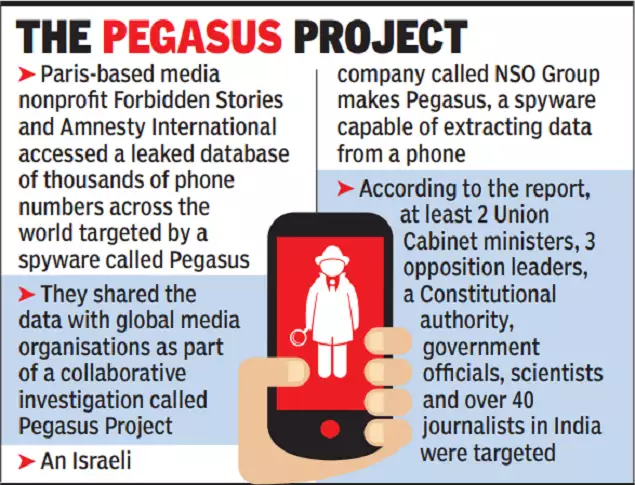 Key Points
Types of Cyber Attacks
Malware: It is short for malicious software, refers to any kind of software that is designed to cause damage to a single computer, server, or computer network. Ransomware, Spy ware, Worms, viruses, and Trojans are all varieties of malware.
Phishing: It is the method of trying to gather personal information using deceptive e-mails and websites.
Denial of Service attacks: A Denial-of-Service (DoS) attack is an attack meant to shut down a machine or network, making it inaccessible to its intended users.


DoS attacks accomplish this by flooding the target with traffic, or sending it information that triggers a crash.

Man-in-the-middle (MitM) attacks: Also known as eavesdropping attacks, occur when attackers insert themselves into a two-party transaction.


Once the attackers interrupt the traffic, they can filter and steal data.

SQL Injection: SQL stands for Structured Query Language, a programming language used to communicate with databases.


Many of the servers that store critical data for websites and services use SQL to manage the data in their databases.
A SQL injection attack specifically targets such kinds of servers, using malicious code to get the server to divulge information it normally wouldn't.

Cross-Site Scripting (XSS): Similar to an SQL injection attack, this attack also involves injecting malicious code into a website, but in this case the website itself is not being attacked.


Instead the malicious code the attacker has injected, only runs in the user's browser when they visit the attacked website, and it goes after the visitor directly, not the website.

Social Engineering: It is an attack that relies on human interaction to trick users into breaking security procedures in order to gain sensitive information that is typically protected.