Switch To Hindi
Mudumalai Tiger Reserve
Why in News
Recently, rejuvenation camp for captive elephants was inaugurated inside the Mudumalai Tiger Reserve (MTR).
Mudumalai Tiger Reserve is located in the Nilgiris District of Tamil Nadu state at the tri-junction of three states, viz, Karnataka, Kerala and Tamil Nadu.
It is a part of Nilgiri Biosphere Reserve (1st Biosphere Reserve in India) along with Wayanad Wildlife Sanctuary (Kerala) in the West, Bandipur National Park (Karnataka) in the North, Mukurthi National Park and Silent Valley in the South.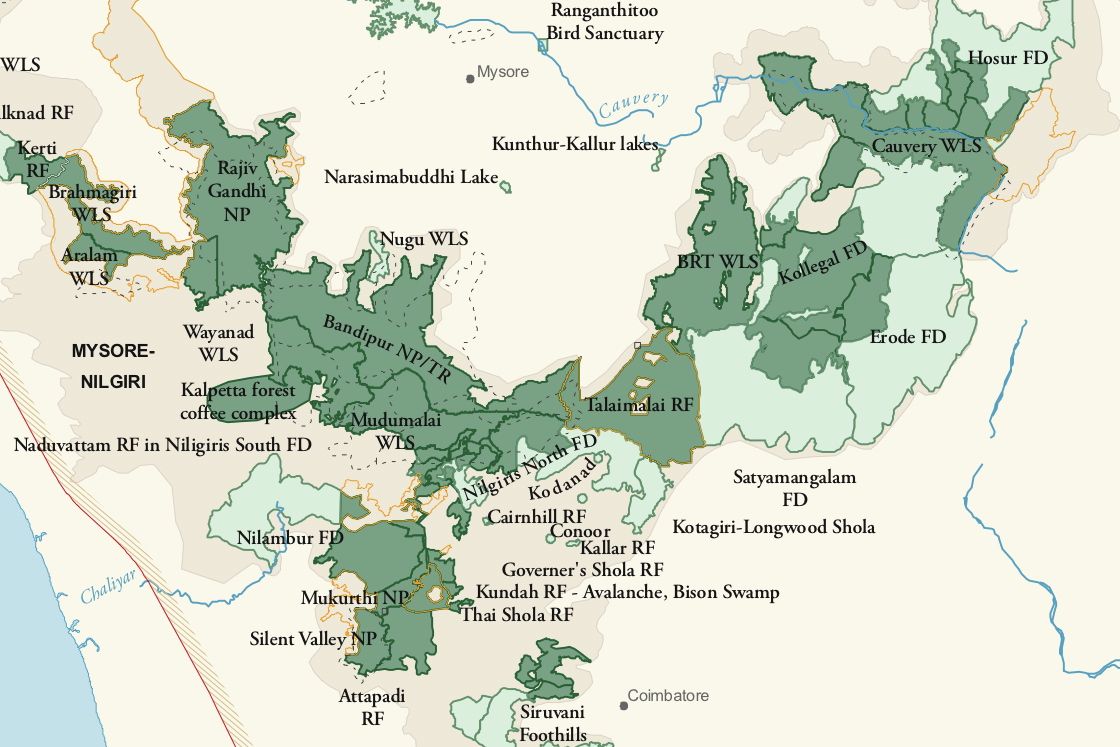 The name Mudumalai means " the ancient hill range". Indeed, it is as old as 65 million years when Western Ghats were formed.
Important Flora and Fauna
Flora:


The Reserve has tall grasses, commonly referred to as 'Elephant Grass'.
Bamboo of the giant variety, valuable timber species like Teak, Rosewood, etc.
There are several species of endemic flora.

Fauna:


Flagship Species: Tiger and Asian Elephant.
Other species: Indian Gaur, Spotted Deer, Common Langur, Malabar Giant Squirrel, Wild Dog, Jungle Cat among others.
Birds:


Reserve has got a wide variety of more than 260 species of birds.
8% of bird species found in India are recorded in Mudumalai.
This includes rare birds like Malabar grey hornbill, Malabar pied hornbill, Malabar laughing thrush among others.
Other Tiger Reserves in Tamil Nadu
Kalakad Mundanthurai Tiger Reserve (KMTR)
Sathyamangalam Tiger Reserve (STR)
Kalakad Mundanthurai Tiger Reserve
Kalakad Mundanthurai Tiger Reserve (KMTR) lies in Tirunelveli and Kanyakumari District of Tamil Nadu.
Vegetation types gradually change from dry thorn forest to dry deciduous.
Mundanthurai Tiger Sanctuary was declared as Nation's first Tiger Sanctuary during 1962, much before Tiger conservation was a national focus.
Kalakad Wildlife Sanctuary was established in 1976 primarily for the conservation of Lion Tailed Macaque.
River Thamirabarani and 13 other rivers originate from KMTR. Hence, KMTR is called popularly as River Sanctuary.
Sathyamangalam Tiger Reserve
Sathyamangalam Tiger Reserve (STR) is located at the confluence region of Western and Eastern Ghats.
This area holds a significant population of tiger, and it is also contiguous to other Tiger conservation landscapes like BRT, Bandipur, Mudumalai and Nagarahole.
The region is also a part of Nilgiri-Eastern Ghats Elephant Reserve.
It has got a high diversity of flora and fauna owing to its location. Apart from Tigers, the region is noted for Elephants, Gaur, Black Buck, Four Horned Antelope, White Backed Vulture, and a variety of other creatures.