India- CARICOM
India's historic and warm relations with the countries of the Caribbean witnessed a new momentum with the meeting of Prime Minister of India with 14 leaders of the CARICOM group of countries on the sidelines of the United Nations General Assembly in New York.
The meeting deliberated on the steadily intensifying and deepening relations between India and partner countries of the Caribbean, not only in the bilateral but also in the regional context.
India has provided immediate financial assistance of USD 1 million to recover from the destruction caused by Hurricane Dorian in the region and the worst-hit island of Bahamas.
India also announced a USD 14 million grant for community development projects in the CARICOM and another 150 million Line of Credit for solar, renewable energy and climate- change-related projects.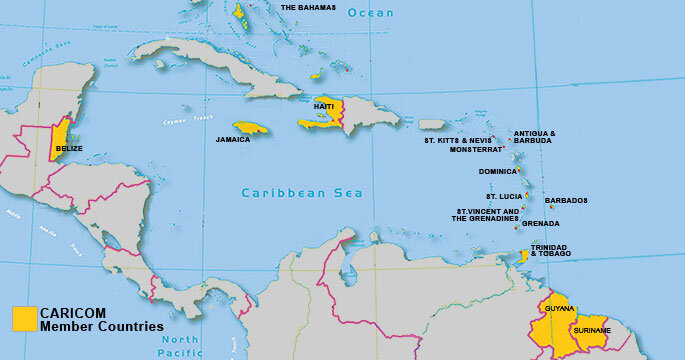 Caribbean Community (CARICOM)
The Caribbean Community was formed in 1973.
CARICOM has 15 members – Antigua and Barbuda, Bahamas, Barbados, Belize, Dominica, Grenada, Guyana, Haiti, Jamaica, Montserrat, St. Kitts and Nevis, St Lucia, St. Vincent and the Grenadines, Suriname, and Trinidad & Tobago.
The Chairmanship of the Community is rotated every six months among the member countries.
The CARICOM Single Market and Economy are intended to benefit the people of the region by providing more and better opportunities to produce and sell goods and services and to attract investment.
The Government of India funded the US$ 1.166 million information technology and communication infrastructure, computer software and community studio at the CARICOM Secretariat in 2005-2006.