Hurricane Dorian
Recently the Hurricane Dorian became the strongest storm in modern records to hit the northwestern Bahamas (a country in the Caribbean Islands).
Hurricane Dorian
It is an extremely powerful tropical cyclone currently affecting the Bahamas and threatening the Southeastern United States.
It is developed from a tropical wave in the Central Atlantic.
It is categorised as a Category 5 storm on Saffir–Simpson hurricane wind scale (SSHWS) with maximum sustained winds of 285 km per hour.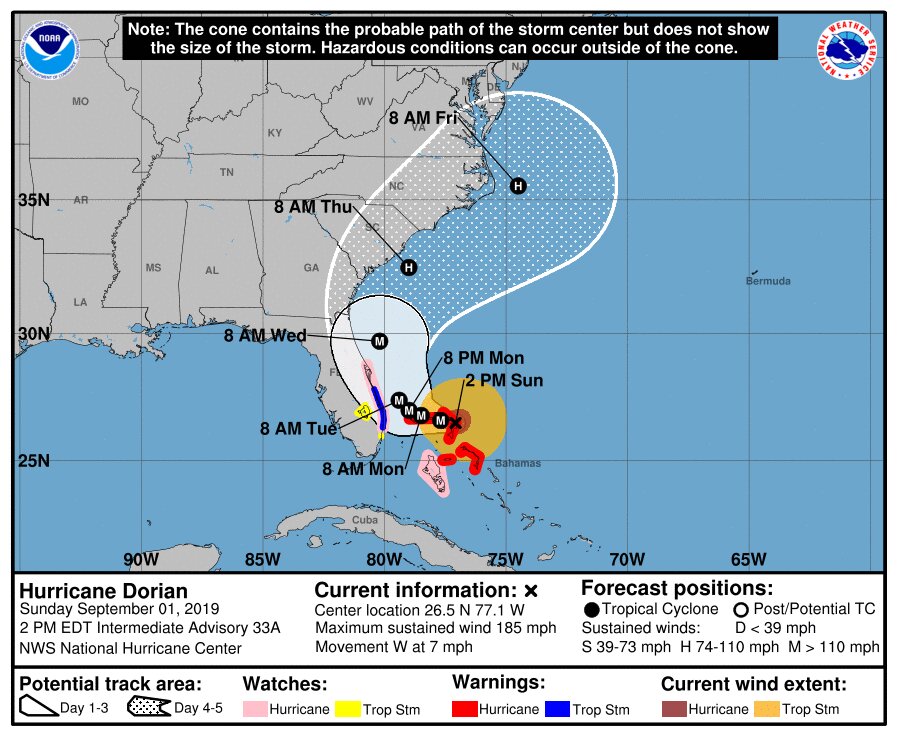 Hurricanes
A Hurricane is a tropical cyclone that occurs in the Atlantic Ocean and the northeastern Pacific Ocean.
These are formed over the warm ocean waters near the equator.
Hurricanes typically form between 5 to 15 degrees latitude north and south of the equator.
Hurricanes are known to be one of nature's most destructive storms as they bring heavy rains, deadly waves and fierce winds.
Saffir-Simpson Hurricane Wind Scale
The Saffir-Simpson Hurricane Wind Scale is a 1 to 5 rating based on a hurricane's sustained wind speed. This scale estimates potential property damage.
| | | |
| --- | --- | --- |
| Category | Sustained Winds | Types of Damage Due to Hurricane Winds |
| 1 | 119-153 km/h | Very dangerous winds will produce some damage |
| 2 | 154-177 km/h | Extremely dangerous winds will cause extensive damage |
| 3 (major) | 178-208 km/h | Devastating damage will occur |
| 4 (major) | 209-251 km/h | Catastrophic damage will occur |
| 5 (major) | 252 km/h or higher | Catastrophic damage will occur |