Economic Stimulus-V
Why in News
Recently, the Union Finance Minister announced the measures for providing employment and support to businesses, state governments as well sectors such as education and health as part of the fifth and final tranche of Atmanirbhar Bharat Abhiyan.
Key Points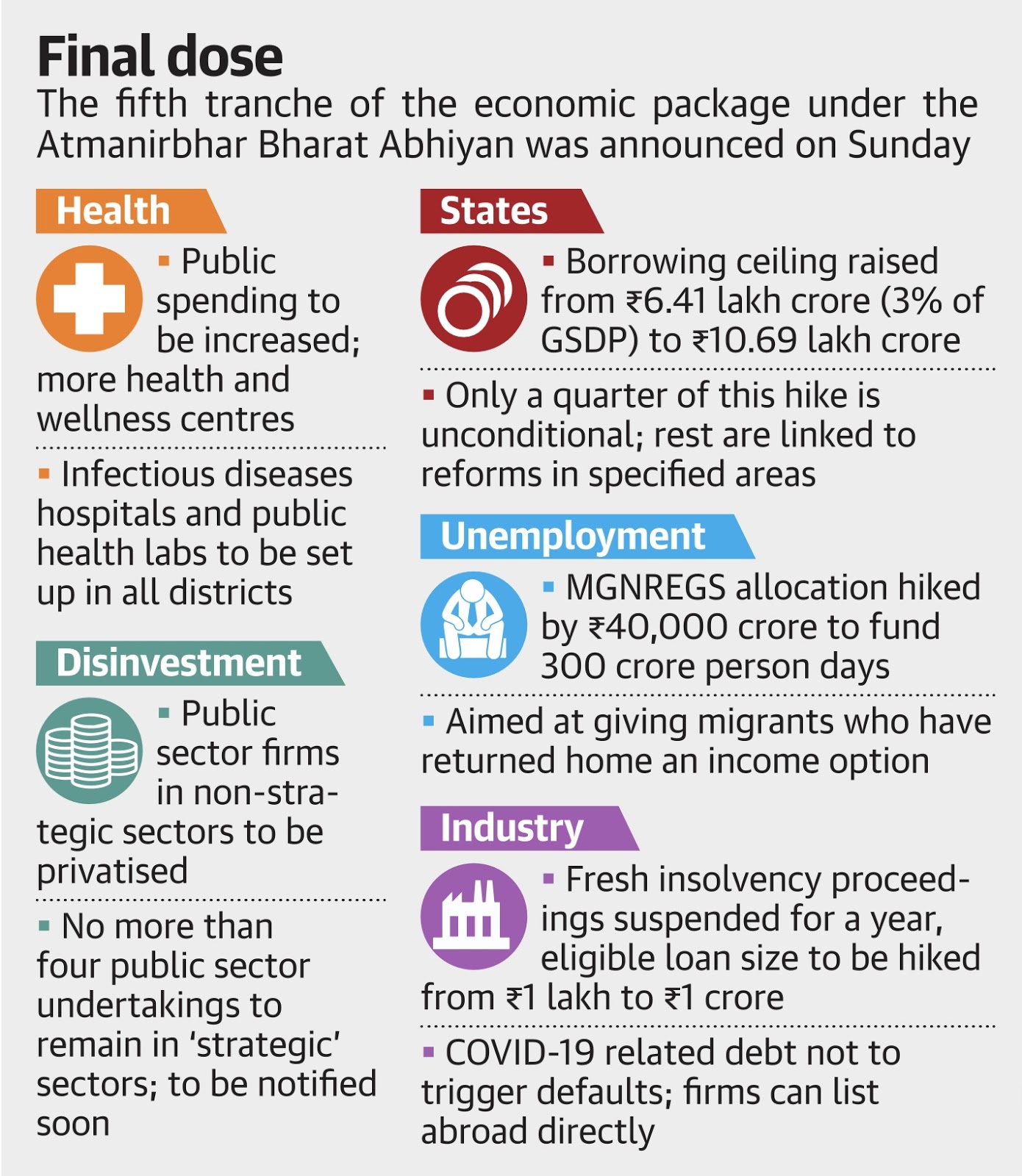 Analysis
On Increase in Allocation for MGNREGA


The step to allocate more resources to MGNREGA was widely welcomed as it will support rural livelihoods in the time of crisis.
However, given that States account for 40% of MGNREGA expenditure, including most upfront costs, they will also have to spend on the scheme.
Demand for work under MGNREGA had surged to a nine-year high in 2019-20 as 5.47 crore households availed of the scheme, the highest since 2010-11.

On Support to State Governments


The expansion of the fiscal deficit has been welcomed by the states because GSDPs (Gross State Domestic Product) are likely to contract and further shrink the possible borrowing at a time when States are at the frontline of containment and relief operations.
However, the conditions on additional loans have been criticised on the grounds that in future, severe conditions may be imposed on even normal loans.
The utilisation of additional 2% borrowing by states can be lower because states may settle on borrowing less to avoid undertaking politically difficult reforms.
A likely increase in borrowing cost due to the emerging gap between total Public Sector Borrowing Requirement (PSBR) and available resources will also lead to states not opting for the increased borrowing.

On Public Sector Enterprise Policy


It was criticised on the grounds that privatising PSUs would find fewer buyers at a time of global recession, while any potential buyer would be spending money which could have gone into fresh investment on a financial transfer instead, effectively contracting demand.