Switch To Hindi
Disk-footed Bat
Why in News
India's first bamboo-dwelling bat with sticky disks, has been found near Nongkhyllem Wildlife Sanctuary in Meghalaya.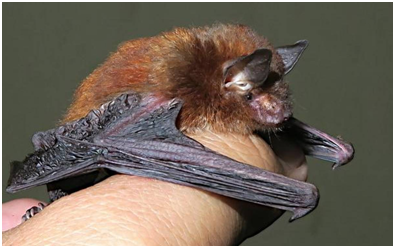 Key Points
About:


The bat species Eudiscopus denticulus, aptly called disk-footed bat, is very distinctive in appearance with prominent disk-like pads in the thumb and bright orange colouration.


It has been found roosting in internodal spaces of bamboo stems.

This species is known to thrive in a few localities in Southern China, Vietnam, Thailand and Myanmar.
In Meghalaya, it was recorded in the Lailad area near the Nongkhyllem Wildlife Sanctuary, about 1,000 km west of its nearest known habitat in Myanmar.
IUCN Red List Status: Least Concern

Number of Bat Species in India:


The disk-footed bat has raised Meghalaya's bat count to 66, the most for any State in India.
It has also helped add a genus and species to the bat fauna of India. India has a total of 130 bat species.
Nongkhyllem Wildlife Sanctuary
Situated in the Ri-Bhoi district near Lailad village and spread over an area of 29 sq. kms, Nongkhyllem Wildlife Sanctuary is one of the famous attractions of Meghalaya.
The Sanctuary falls in the Eastern Himalayan Global biodiversity hotspot.
The sanctuary supports different species of fauna such as Royal Bengal Tiger, Clouded Leopard, Indian Bison, and Himalayan Black Bear etc.
Among the birds, the rare species which can be spotted here are Manipur Bush Quail, Rufous Necked Hornbill and Brown Hornbill.
Other Wildlife Sanctuary in Meghalaya:


Siju Wildlife Sanctuary
Narpuh Wildlife Sanctuary
Baghmara Pitcher Plant Sanctuary