China Crossed its 1960's LAC Claims
Why in News
According to the records of 1960 boundary talks, the Chinese troops have gone beyond China's own territorial claims at Pangong Tso Lake and Galwan Valley.
The records also raise questions on recent statements from Indian officials that China is not present anywhere on Indian territory.
Key Points
Official Records:


The 1960's documents show that the Chinese claim over the Pangong Tso Lake was at near Finger 8, around 8 km east of where China now says the Line of Actual Control (LAC) is. Now the Chinese troops are at Finger 4.


The Fingers refer to mountain spurs on the bank of the Lake, and run from 1 to 8, west to east.

The documents show that, in the Galwan Valley, the LAC ran east of the bend of the Galwan river, called the Y-nallah, which is now claimed by China.


The Y-nallah was the site of the recent clash between Indian and Chinese troops.
The clash took place following a dispute during the de-escalation process, triggered when the Chinese troops put up a tent near the bend.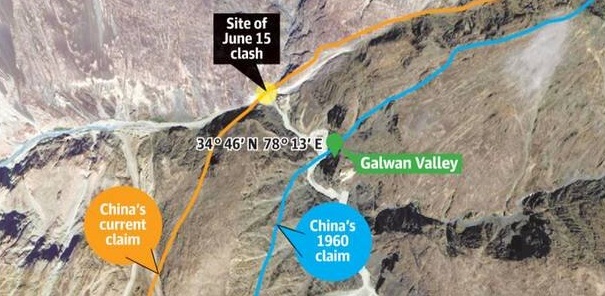 Reason for Increased Claims:


The Chinese are now likely interpreting their perception of the LAC in a manner that seeks to redefine or maximise old claims along new lines, as cartography and terrain knowledge have improved, which offer them tactical advantage and more 'domination' in key areas along the LAC.
Strengthening of India's border infrastructure (e.g. construction of Darbuk-Shyok-Daulat Beg Oldie road) may also be the reason.