Annual Crimes in India Report 2018: NCRB
Why in News
The National Crime Records Bureau (NCRB) published the annual Crime in India Report 2018. It shows the crime statistics in the country between 2017 and 2018.
NCRB has also released Accidental Death and Suicides in India 2018 report which outlines death and suicide statistics of the country.
Key Points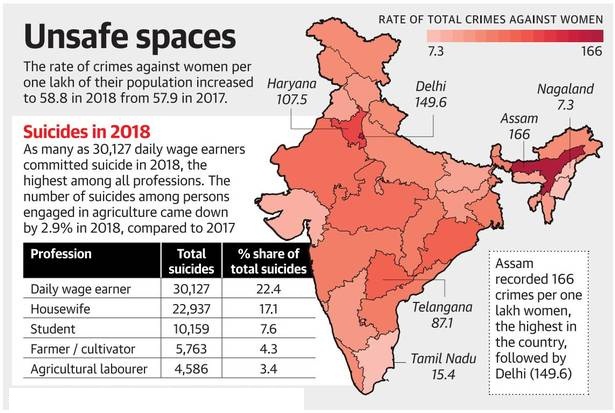 The report shows an increase of 1.3% in the registration of cases.
The crime rate per lakh population has come down from 388.6 in 2017 to 383.5.
Crime Against Women: The rise has been observed in 2018 compared to 2017.


Uttar Pradesh topped the list followed by Maharashtra and West Bengal.
Delhi tops the list among the metropolitan cities.
Cruelty by husband or his relatives (31.9%) followed by an assault on women with intent to outrage her modesty (27.6%) constituted the major share of crimes against women.

Suicides: The total number of people who committed suicide in 2018 has increased from 2017.


The highest number of suicide victims were daily wage earners comprising 22.4% of such deaths.
Maximum of the suicides were reported from Maharashtra followed by Tamil Nadu, West Bengal, Madhya Pradesh and Karnataka.
Farm sector workers accounted for 7.7 % of the total number of suicides in the country.
West Bengal, Bihar, Odisha, Uttarakhand, Meghalaya, Goa, Chandigarh, Daman & Diu, Delhi, Lakshadweep and Puducherry reported zero suicides by farmers/cultivators and agricultural labourers.

Economic Offences: It includes criminal breach of trust, forgery, cheating, fraud and counterfeiting, etc. Higher economic offences were observed in 2018 as compared to 2017.


Uttar Pradesh accounted for the maximum number of economic offences followed by Telangana and Bihar.

Violence due to Riots: Riot cases due to communal, political, agrarian and student issues declined but riots arising out of industrial and water disputes rose sharply.
SC/ST related crimes: The incidents registered under the Scheduled Caste and Scheduled Tribes related Acts observed a decline in 2018 from 2017.
Cyber Crimes: An increase in cybercrimes has been observed in 2018 compared to 2017.