Year End Review 2019: Ministry of Women and Child Development
Important Schemes and Policies
Bharatiya Poshan Krishi Kosh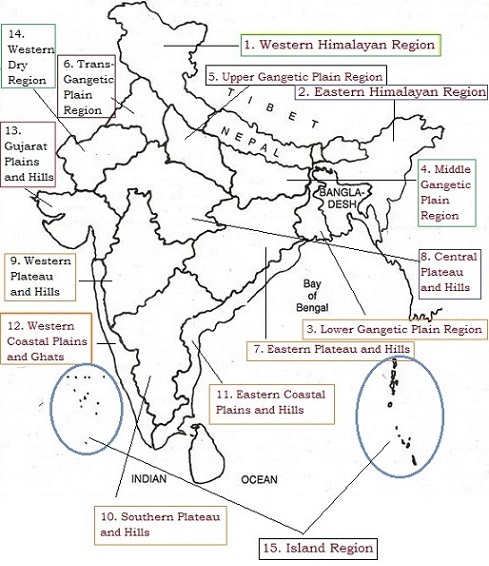 Poshan Abhiyaan
Launched in March 2018, the goal of Poshan Abhiyaan is to achieve improvement in the nutritional status of Children (0-6 years) and Pregnant Women and Lactating Mothers in a time-bound manner in next three years period beginning 2017-18 with fixed targets.
Prevent and reduce stunting in children (0- 6 years)- By 6% @ 2% per annum.
Prevent and reduce under-nutrition (underweight prevalence) in children (0-6 years) By 6% @ 2% per annum.
Reduce the prevalence of anaemia among young children (6-59 months) By 9% @ 3% per annum.
Reduce the prevalence of anaemia among Women and Adolescent Girls in the age group of 15-49 years. By 9% @ 3% per annum.
Reduce low birth weight By 6% @ 2% per annum.
There is no provision under the POSHAN Abhiyaan to provide nutritious food.


Providing Supplementary Nutrition is a part of Anganwadi Services scheme.
Poshan Abhiyaan ensures convergence of various nutrition-related schemes/interventions of various ministries.
Note:
September 2019 was celebrated as POSHAN Maah.
Pradhan Mantri Matru Vandana Yojana
For pregnant women and lactating mothers. The scheme crossed the mark of 1 crore beneficiaries.
Is a direct benefit transfer (DBT) scheme under which cash benefits are provided to pregnant women in their bank account directly to meet enhanced nutritional needs and partially compensate for wage loss.
A cash benefit of Rs. 5,000 in three instalments on fulfilling the respective conditionality- early registration of pregnancy, ante-natal check-up and registration of the birth of the child and completion of first cycle of vaccination for the first living child of the family.
Eligible beneficiaries also receive cash incentive under Janani Suraksha Yojana (JSY).
One Stop Centre Scheme
It is a centrally sponsored scheme which provides for a range of services including police facilitation, medical aid, psycho-social counselling, legal counselling and temporary shelter to women affected by violence in an integrated manner under one roof.
It is a subscheme of an umbrella scheme for National Mission for Empowerment of Women.
Nirbhaya Fund
A dedicated non-lapsable corpus fund for implementation of initiatives aimed at enhancing the safety and security of women in the country.
Under the Nirbhaya Fund, the proposed projects should have features like:


direct impact on the safety and security concerns of women,
optimum use of existing infrastructure, innovative use of technology,
no duplication of existing government schemes/ programmes,
provision for real-time intervention as far as possible,
strict privacy and confidentiality of women's identity and information,
defined monitoring mechanism.
Sexual Harassment electronic–Box (SHe-Box)
An online complaint management system for registering complaints related to sexual harassment at the workplace by women, including government and private employees. Once a complaint is submitted to the SHe-Box portal, it directly reaches the concerned authority having jurisdiction to take action in the matter.
Important Legislation
Protection of Children from Sexual Offences (POCSO) Bill, 2019
The Bill amends the Protection of Children from Sexual Offences Act, 2012.
The Act seeks to protect children from offences such as sexual assault, sexual harassment, and pornography.
Salient Features of the POCSO Amendment Bill, 2019
It is for the first time in the history of anti-sexual crimes against children law that the death penalty has been introduced.
The Bill provides for not less than 20 years of rigorous imprisonment extending up to the rest of the natural life of the convict or death and fine in the cases of aggravated sex assault.


Aggravated sex assault: Sexual crimes by people who are in positions of trust and authority. It could be the manager of a child shelter home, school principal, doctor or the hospital staff and even a family member.
The original version of the POCSO Act only made this category of crime liable with not less than 10 years of rigorous imprisonment.

The Bill provides that if there has been a penetrative sexual assault with any child less than 16 years of age, that will be punishable with not less than 20 years of rigorous imprisonment extendable to the remainder of natural life.
The other significant feature is the introduction of the definition of child pornography for the first time (Section 14 and 15). The reason behind this is that perpetrators use the loopholes in the Information Technology (IT) Act and other acts to getaway. The IT Act does not cover sexually explicit photographs of children, it only covers the digital content.


Definition of Child Pornography: Any visual depiction of sexually explicit conduct involving a child which includes a photograph, video, digital or computer-generated image indistinguishable from an actual child.

Storage of Pornographic Material: The Act penalised storage of pornographic material for commercial purposes with a punishment of up to three years, or a fine, or both. However, the Bill increases it to 3-5 years. In addition, the Bill adds two other offences for storage of pornographic material involving children:


Failing to destroy, or delete, or report pornographic material involving a child, and
Transmitting, displaying, distributing such material except for the purpose of reporting it.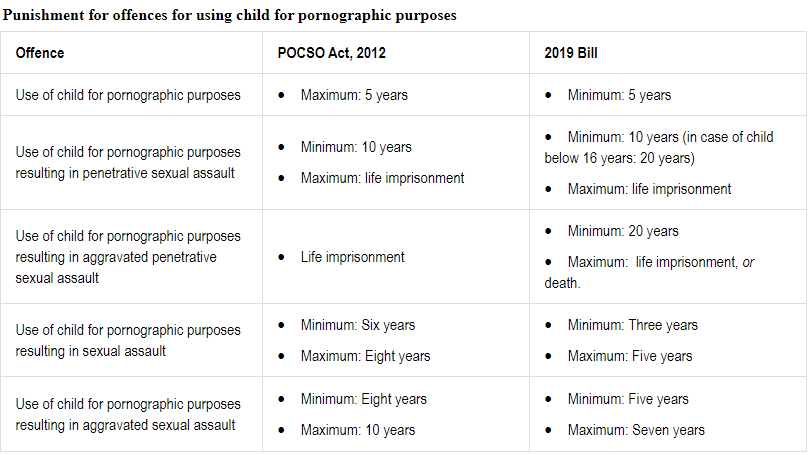 Steps Taken by Government For Speedy Dispensation of Justice
The Criminal Law (Amendment) Act, 2018


To prescribe even more stringent penal provisions including the death penalty for rape of a girl below the age of 12 years. The Act also inter-alia mandates completion of investigation and trials within 2 months each.

National Database on Sexual Offenders launched to facilitate investigation and tracking of sexual offenders across the country by law enforcement agencies.
Online analytic tool for police "Investigation Tracking System for Sexual Offences" launched to monitor and track time-bound investigation on sexual assault cases in accordance with the Criminal Law (Amendment) Act, 2018.
State-of-the-Art DNA Analysis Unit set up in Central Forensic Science Laboratory, Chandigarh to strengthen DNA analysis units in Central and State Forensic Science Laboratories.
Cyber Crime Prevention against Women and Children (CCPWC) Scheme- an online cybercrime reporting portal launched to enable public to report complaints pertaining to child pornography/ child sexual abuse material, rape/gang rape imageries or sexually explicit content.