Why in News?
According to information received from the media on March 27, 2023, a plan has been prepared to build a corridor targeting the development of industrial and tourism areas of Jharkhand, under which six four-lane road corridors will be built by the State Road Construction Department.
Key points
It is known that all these four-lane corridors will be international level highways, as well as due to the construction of these corridors, those traveling within the state will have to travel less time and less distance, which is likely to make people very comfortable.
According to the information, 393 km in these. East-West Corridor of 121 km, Eastern Corridor of 121 km, North-South Corridor of 275 km, Central Corridor of 140 km, Tourist Corridor of 270 km and Holi Tourist Corridor of 170 km.
The state road construction department will give responsibility to experienced and technically skilled consultants to prepare the DPR of all the corridors.
The six corridors that have been decided to be constructed, which will provide facilities to the people on different routes, are-

East-West Corridor: 393 km. From Mudisemar to Dumka via Chatra-Barhi-Bengabad Madhupur-Sarath-Palajori.
Eastern Corridor: 121 km. From Sahibganj to Chandil via Jamtara-Nirsa-Sindri-Chandankyari.
North-South Corridor: 275 km. From Jhumri Telaiya on NH-2 (Antakidih)- Vishnugarh to Odisha border via Petarvarkasmar-Barlanga-Silli-Radgaonsaraikela-Chaibasa-Jaitgarh.
Central Corridor: 140 km. From Ranchi to The Border of Dobhi Bihar via Budhmu-Tandwa-Chatra-Hunterganj.
Tourist Corridor: 270 kms. From Milan Chowk (Silli Rangamati Road) to Chama Mod via Sarjamdih-Tamad-Khunti Govindpursisai-Ghaghra-Netarhat-Garu-Saryu-Latehar-Herhanj-Balumath-McCluskiganj.
Holi Tourist Corridor: 170 kms. From Ranchi to Deoghar via Ormanjhi-Gola-Rajarappa-Dumri and Giridih. It will connect Luguburu, Parasnath and Babadham.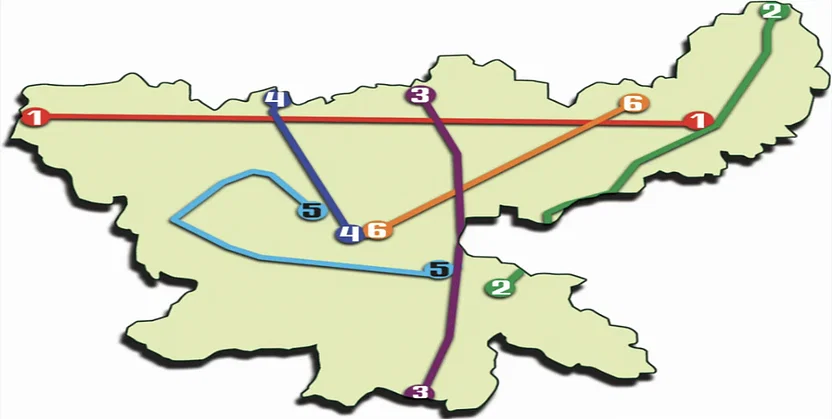 ---
Why in News?
On March 27, 2023, 44 decisions were approved in the Jharkhand cabinet meeting, including construction of Transport Nagar in Ranchi, development of infrastructure to provide internet facility in all block headquarters of Simdega-Khunti, and many other important decisions. Are.
Key points
In the cabinet meeting, approval was also given to fix the financial burden of the government in the salary due as a result of the seventh pay revision being given to the workers of the urban local bodies of the state.
Some other important decisions taken in the meeting of the Council of Ministers are as follows -
Administrative approval was given for a total plan of Rs 57,82,58,156/- for Phase-2 of Transport City Construction Scheme on EPC Model in the capital Ranchi.
To provide internet facility in the financial year 2022-23, a total expenditure of Rs 84 crore was approved for saturation of all block headquarters of Simdega Khunti and Dumka block of Dumka district as a pilot project under Network Infrastructure Development.
Scheduled Tribe, Scheduled Caste, Approval was given to extend the period and operation of Eklavya Model Residential Schools run under the control of Minority and Backward Classes Welfare Department under the State of Jharkhand through NGOs.
Under the control of Scheduled Tribes, Scheduled Castes, Minorities and Backward Classes Welfare Department under the state of Jharkhand, the operation of ashrams, schools/PVTGs, residential primary schools/ scheduled tribe residential primary schools/scheduled caste residential primary schools through non-governmental organizations Approval were given to enter into an agreement for the period, expansion and operation.
Approval was granted to transfer partial area of 25.99 acres of land to NTPC North Karanpura Project (NKSTPP), Tandwa for construction of ASH DYKE and WATER RESERVOIR out of the land acquired for deep reservoir falling in NTPC North Karanpura Project, Tandwa area.
In the first schedule of the Jharkhand Executive Rules, 2000 (as amended from time to time), the work-responsibilities allocated to the Department of Tourism, Culture, Sports and Youth Affairs, National Cadet Corps and Assistant Cadet Corps, in the work responsibility of the Department of School Education and Literacy. The inclusion was approved.
Administrative approval was given to the Interception & Diversion (I&D) and Sewerage Treatment Plant (STP) project, Ramgarh at a cost of Rs 310.11 crore under 'Namami Gange Yojana'.
the centrally sponsored scheme Atal Renewal and Urban Transformation Mission 2.0 (AMRUT 2.0), the Technical approved Barki Saraiya Urban Water Supply Project was given administrative approval at a cost of Rs Under 4648.58 lakh.
Necessary amendments were approved in the Jharkhand Agricultural Subordinate Services (Recruitment and Promotion) Rules, 2013 (as amended from time to time).
By amending the Jharkhand State Supply Service Rules, 2013 (as amended from time to time), the Jharkhand State Supply Service (Recruitment, Promotion and Other Service Conditions) Rules, 2023 were approved.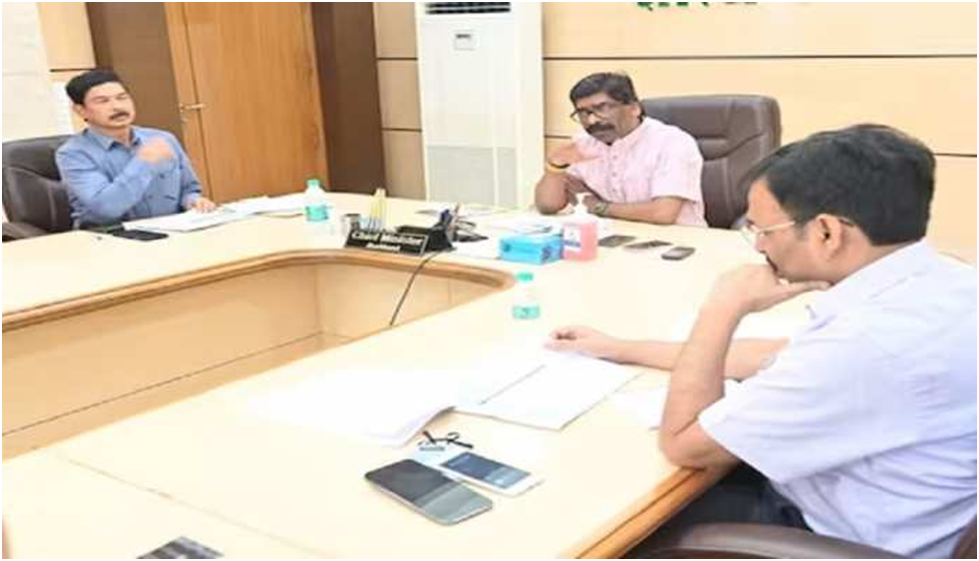 ---
Switch to Hindi