Statehood Day of Himachal Pradesh
Why in News
Recently, the Prime Minister of India greeted people of Himachal Pradesh (H.P.) on its statehood day (25th Janurary).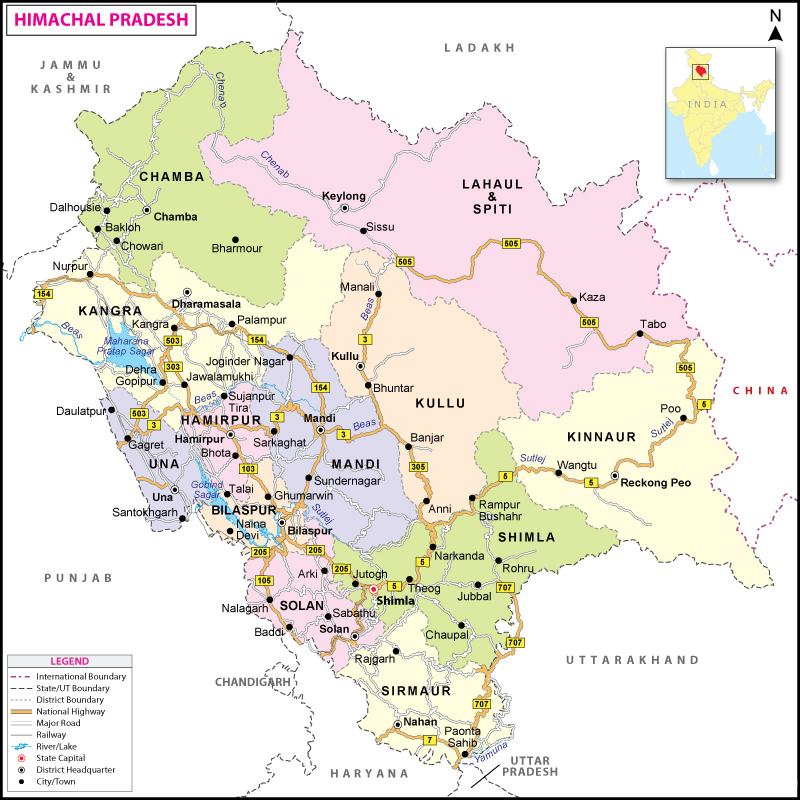 Key Points
History During British Rule:
| | |
| --- | --- |
| State Animal: | Snow Leopard |
| State Bird: | Western Tragopan |
| State Flower: | Pink Rhododendron |
| State Language: | Hindi & Local Dialects |
| Major Rivers and Dams: | Sutlej (Bhakra Dam, Gobind Sagar reservoir, Koldam Dam), Beas (Pandoh Dam, Maharana Pratap Sagar Reservoir), Ravi (Chamera Dam), Parbati |
| Major Lakes: | Renuka, Rewalsar, Khajjiar, Dal, Beas Kund, Dasaur, Brighu, Prashar, Mani Mahesh, Chander Tal,Suraj Tal, Kareri, Sreolsar,Gobind Sagar, Nako |
| National Parks | Great Himalayan National Park, Pin Valley National Park, Khirganga, Inderkila, Simbalbara |
The British territories in the hill came under British Crown after Queen Victoria's proclamation of 1858.
The states of Chamba, Mandi and Bilaspur made good progress in many fields during British rule.
During the first World War (1914-18), virtually all rulers of the hill states remained loyal and contributed to the British war effort both in the form of men and materials.

History During Post-Independence Period: The history of present day Himachal Pradesh in the post-independence era has been outlined below:

The Chief Commissioner's province of H.P. came into being on 15th April, 1948.
H.P. became a part C state (under Part VII) on 26th January, 1950 with the implementation of the Constitution of India.
Bilaspur was merged with Himachal Pradesh on 1st July, 1954.
After recommendation of the State Reorganisation Commission, Himachal Pradesh became Union Territory on 1st November, 1956.
Kangra and most of the other hill areas of Punjab were merged with H.P. on 1st November, 1966 though its status remained that of a Union Territory.
On 18th December, 1970 the State of Himachal Pradesh Act was passed by Parliament and the new state came into being on 25th January, 1971. Thus H.P. emerged as the eighteenth state of the Indian Union.
Himachal Pradesh has come a long way since then. It has seen a number of full-fledged governments which have led the state towards economic self-reliance.
State Reorganisation Commission
Having achieved India's independence from British rule, reorganization of more than 500 princely states into effective provincial units was one of the biggest tasks.
In pursuance of the same, S. K. Dhar commission (1948) and JVP Committee (1948) advocated for reorganization of states based on geographical contiguity, administrative convenience, financial self-reliance and potential for development.
However, with the sudden death of Potti Srirammalu following hunger strike in demand for Andhra state created a volatile situation.
The Fazl Ali Commission (1953) was set up and its recommendation for reorganization of state based on linguistic criteria (other criteria were also included) was accepted.