Son River
Why in News?
The National Green Tribunal (NGT) has issued a directive to halt all mining activities in Son riverbed in Sonbhadra district, Uttar Pradesh.
The directive addresses illegal mining, imposing environmental compensation on mining companies.
What are the Characteristics of Son River?
About:

The Son River, also known as the Sone River, is a perennial river that flows through central India.
The Son River is the 2nd-largest southern (right bank) tributary of the Ganges after the Yamuna River.

Geography:

It originates near Amarkantak Hill in the Gaurela-Pendra-Marwahi district of Chhattisgarh and finally merges with the Ganges River near Patna in Bihar.

Son forms a series of waterfalls at the edge of Amarkantak plateau.

It flows through four states: Chhattisgarh, Madhya Pradesh, Uttar Pradesh, and Bihar.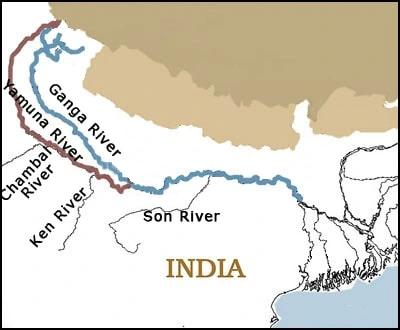 Tributaries:

Ghaghar, Johilla, Chhoti Mahanadi, Banas, Gopad, Rihand, Kanhar and North Koel River.

Prominent Dams and Hydroelectric Projects:

Bansagar Dam in Madhya Pradesh
Rihand Dam near Pipri in Uttar Pradesh on Rihand River.
Indrapuri Barrage in Bihar; it diverts water from the Son River to the Sone Canal System for irrigation purposes.
Koilwar Bridge constructed in 1862 in Bihar; it serves as India's oldest river bridge, connecting Arrah with Patna.