National Organ Donation Day
Why in News
National Organ Donation Day was celebrated on 27th November by the Ministry of Health and Family Welfare.
Key Points
National Organ Transplant Programme (NOTP)


Provides financial grants for establishing ROTTOs, SOTTOs, developing new and upgrading existing retrieval and transplant centres.

Organ Donation Institutional Set up:

State of Organ Donation in India:


India ranked third in the world as per WHO Global Observatory on Donation and Transplantation (GODT) in terms of organ donation.
Transplantation of Human Organs Act, 1994
Transplantation of Human Organs Act was passed in 1994 and subsequently amended in 2011 thus bringing in form Transplantation of Human Organs (Amendment) Act 2011.
It provides various regulations for the removal of human organs and its storage.
It also regulates the transplantation of human organs for therapeutic purposes and for the prevention of commercial dealings in human organs.
Main Provisions


The act recognises brain death identified as a form of the death process and defines criteria for brain death.
It provides regulatory and advisory bodies for monitoring transplantation activity.
It also provides for maintenance of a registry of donors and recipients of human organs and tissues.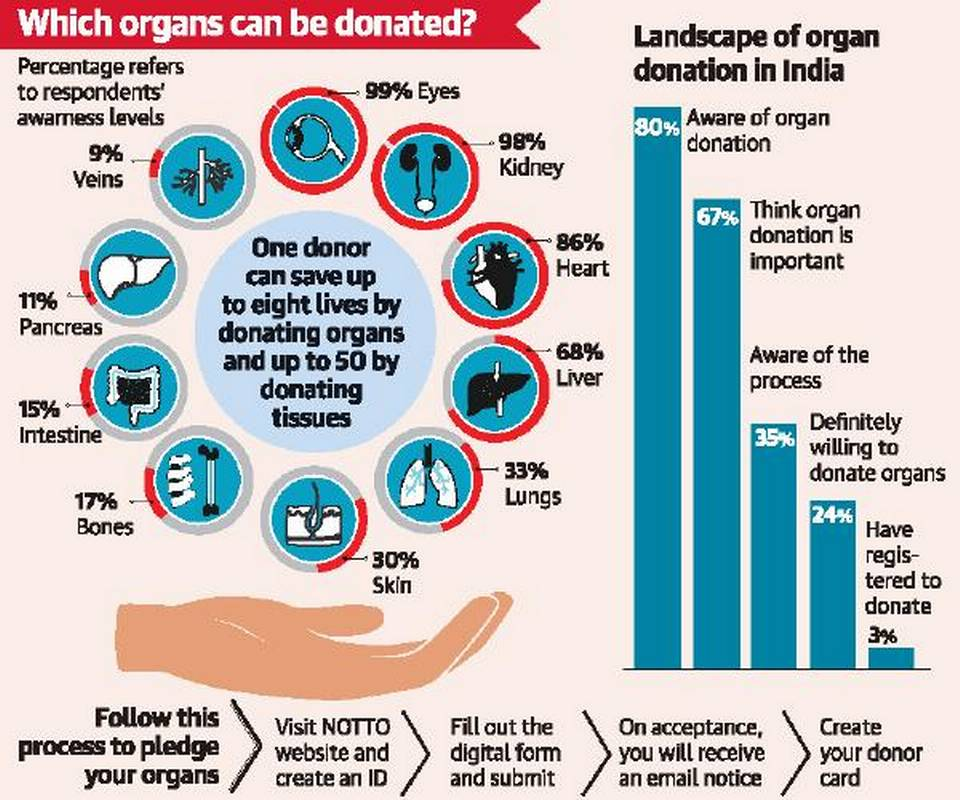 Way Forward
Initiatives such as Indian Organ Donation Day helps promote awareness and recognize the selfless contribution made by deceased donors to healthcare and mankind re-instill our faith in humanity.