National Highway-766
Why in News
Recently, the Kerala Legislative Assembly has passed a resolution demanding the Union government to lift the travel restrictions on National Highway-766 (NH-766).
The night travel on the forest stretch of NH-766 , passing through the Bandipur National Park is banned since 2009 to protect wildlife in the area.
NH-766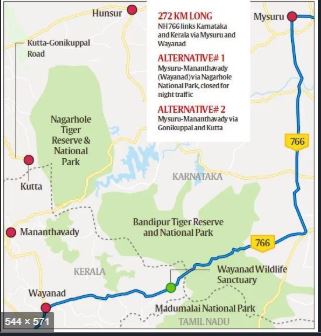 It connects Karnataka and Kerala that passes through the Bandipur Tiger Reserve in Karnataka.
It was declared a national highway in 1989, then named NH 212, and later renamed NH 766.
It serves as a survival route for the people of Wayanad as the place lacks rail and water connectivity.
Bandipur National Park
It is part of interconnected forests that include Mudumalai Wildlife Sanctuary (Tamil Nadu), Wayanad Wildlife Sanctuary (Kerala) and Nagarhole National Park (Karnataka).
It has the second-highest tiger population in India after Pench Tiger Reserve(Madhya Pradesh).
Madhya Pradesh has the highest number of tigers followed by Karnataka.