Mt Paektu
Mount Paektu or Changbai (in Chinese) is considered sacred by the Koreans.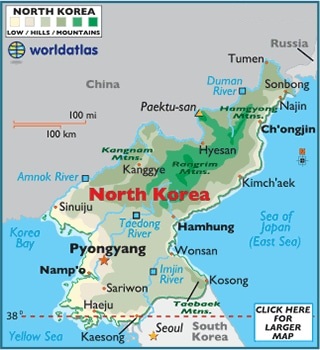 It is a volcanic mountain that last erupted over 1,000 years ago.
It is situated at the border between Democratic People's Republic of Korea (DPRK) and China.
At a height of about 9,000 feet, it has the highest peak in the Korean peninsula.
The mountain is considered sacred as Koreans treat the mountain to be the spiritual origin of the Korean kingdom, where the founder (Kim Il Sung) was born.


Kim Il Sung fought against the Japanese occupation forces in the same region and North Koreans are led to believe that Kim Jong Il (Present North Korean Leader Jong-Un's father) was born here.
The Kim family legitimises their rule over DPRK by referring to the "Mount Baekdu Bloodline" (the mountain is also referred to as Baekdusan).

A reference to the mountain is made in the South Korean national anthem as well.