Indian Flapshell Turtles
Why in News
Recently, forest officials from Odisha found 40 Indian flapshell turtles in baskets in an alleged smuggling racket.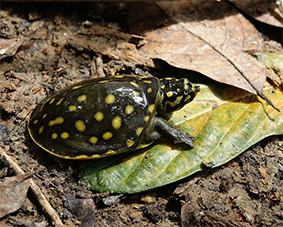 Key Points
About:


The Indian flapshell turtle is a freshwater species of turtle and is found in many states.


The "flap-shelled" name stems from the presence of femoral flaps located on the plastron. These flaps of skin cover the limbs when they retract into the shell.
It is a relatively small soft-shell turtle with a carapace length of up to 350 millimetres.

Scientific Name: Lissemys punctata

Distribution:


They are found in Pakistan, India, Sri Lanka, Nepal, Bangladesh (Indus and Ganges drainages), and Myanmar (Irrawaddy and Salween Rivers).
They live in the shallow, quiet, often stagnant waters of rivers, streams, marshes, ponds, lakes and irrigation canals, and tanks.
These turtles prefer waters with sand or mud bottoms because of their tendency to burrow.

Conservation Status:

Threats:


Turtles are smuggled and killed for their supposed aphrodisiac properties, livestock feed, to make leather from their skins, to make potions from their blood and to use as fishing bait.
Turtles are also used for meat and medicines.

Steps Taken for Conservation:


KURMA App:


It has a built-in digital field guide covering 29 species of freshwater turtles and tortoises of India.
It was developed by the Indian Turtle Conservation Action Network (ITCAN) in collaboration with the Turtle Survival Alliance-India and Wildlife Conservation Society-India.

World Turtle Day is observed every year on 23rd May.