India and Vietnam Relations
Why in News?
India gifted the indigenously built in-service missile corvette INS Kirpan to Vietnam. It reflects India's commitment to deepening defense cooperation and cementing its role as Vietnam's 'Preferred Security Partner' in the Indian Ocean Region.
What is INS Kirpan?
INS Kirpan is a Khukri class missile corvette, commissioned into the Indian Navy on January 12, 1991.

The Khukri class corvettes are equipped with Diesel Engines assembled in India, under license by Kirloskar Group. Around 65% of the ship contains indigenous parts.

It boasts a speed more than 25 knots and is equipped with various armaments, making it highly versatile in performing multiple roles, including coastal and offshore patrol, surface warfare, coastal security, anti-piracy, and Humanitarian Assistance and Disaster Relief (HADR) operations.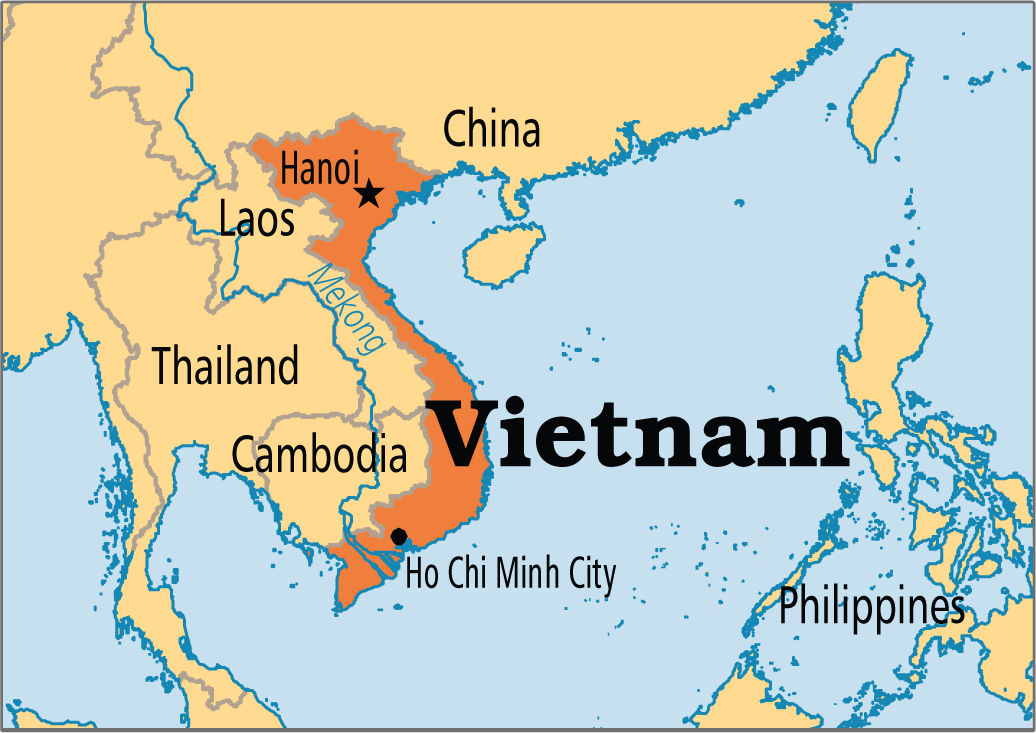 What are the Areas of Cooperation Between India and Vietnam?
About:

India had established the Consul General's office in Hanoi as early as 1956.

Vietnam established its diplomatic mission in 1972.

India had stood by Vietnam in opposing US intervention in that country at the cost of embittering Indo-US relations.

India was the Chairman of the International Commission for Supervision and Control (ICSC), which was formed pursuant to the Geneva Accord of 1954 to facilitate the peace process in Vietnam.

In 1992, India and Vietnam established extensive economic ties, including oil exploration, agriculture and manufacturing.
In July 2007, relations between the two countries were elevated to the level of 'Strategic Partnership'.
In 2016, bilateral relations were further elevated to a "Comprehensive Strategic Partnership"

Economic Cooperation:

Mekong-Ganga Cooperation (MGC): As members of MGC, India and Vietnam have been working to enhance ties between India and Southeast Asian nations and promote development cooperation.
Trade and Investment: In financial year 2021-22, bilateral trade between India and Vietnam posted a growth of 27% and reached USD 14.14 billion.

India one of the top 8th trading partners of Vietnam. While vietnam is the 15th largest trading partner of India and the fourth in Southeast Asia.

Capacity Building: India provides training programs and scholarships under the Indian Technical and Economic Cooperation (ITEC) to Vietnam, contributing to Vietnam's socio-economic development.

Political Backing: India and Vietnam have supported each other in various international forums and organizations, demonstrating their commitment to global cooperation.
Multilateral Cooperation:

India and Vietnam closely cooperate in various regional forums such as ASEAN, East Asia Summit, Asia Europe Meeting (ASEM) besides UN and WTO.

Defense Cooperation:

High-Speed Patrol Boats: In September 2014, India extended a Line of Credit (LoC) of USD 100 million to procure 12 high-speed patrol boats for the Vietnamese border guard force.

In 2016, an additional USD 500 million defense LoC was extended to Vietnam.
Also, Joint Vision Statement on India-Vietnam defense partnership towards 2030 was signed in June 2022.

Vietnam-India Bilateral Army Exercise: Ex VINBAX

Maritime Security and Cooperation:

Freedom of Navigation: Both countries firmly support freedom of navigation and overflight, as well as lawful commerce in national waters, in accordance with international laws, particularly UNCLOS.
South China Sea Code of Conduct: India and Vietnam emphasize that the Code of Conduct on the South China Sea should be consistent with relevant UN conventions and respect the legitimate rights and interests of nations not participating in the discussions.
Facts About Vietnam
Location: Southeast Asia, bordered by China to the north, Laos to the northwest, Cambodia to the southwest, and the South China Sea to the east and south.
Capital: Hanoi
Largest Rivers: The Mekong in the south and the Red in the north, end at the South China Sea.
Currency: Vietnamese Dong (VND)
Independence: Declared on September 2, 1945, from French colonial rule.
Historical Events: Vietnam War (1955-1975) involving the US and North and South Vietnam: Reunification of North and South Vietnam in 1976.
Festivals: Tet Nguyen Dan (Lunar New Year) and Vu Lan (Hungry Ghost Festival).
UPSC Civil Services Examination, Previous Year Question (PYQ)
Q. In the Mekong-Ganga Cooperation, an initiative of six countries, which of the following is/are not a participant/ participants? (2015)
Bangladesh
Cambodia
China
Myanmar
Thailand
Select the correct answer using the code given below:
(a) 1 only
(b) 2, 3 and 4
(c) 1 and 3
(d) 1, 2 and 5
Ans: (c)
Q. Consider the following pairs: (2020)
| | | |
| --- | --- | --- |
| | River | Flows into |
| 1. | Mekong | Andaman Sea |
| 2. | Thames | Irish Sea |
| 3. | Volga | Caspian Sea |
| 4. | Zambezi | Indian Ocean |
Which of the pairs given above is/are correctly matched?
(a) 1 and 2 only
(b) 3 only
(c) 3 and 4 only
(d) 1, 2 and 4 only
Ans: (c)
Mekong River, originating in the icy headwaters of the Tibetan highlands, flows through the steep canyons of China, known as the upper basin, through lower basin countries Myanmar, Laos, Thailand, and Cambodia, before fanning an expansive delta in Vietnam and emptying into the South China Sea. Hence, pair 1 is not correctly matched.
River Thames, the longest river in England, flows 215 miles from the Cotswolds to the North Sea. The main tributaries of Thames are Buscot, Reading, and Kingston. Hence, pair 2 is not correctly matched.
The Volga River, the longest river in Europe, runs through Russia with its delta flowing into the Caspian Sea just south of the Kazakhstan border. Hence, pair 3 is correctly matched.
The Zambezi is the fourth-largest river after the Congo/Zaire, Nile and Niger in Africa. It rises in the Kalene hills in north-western Zambia and flowseastwards for about 3000 km to the Indian. Hence, pair 4 is correctly matched. Therefore, option (c) is the correct answer.