Hurricane Hanna
Why in News
Recently, Hurricane Hanna has made landfall (the point at which a hurricane reaches land) in Texas with life-threatening storm surge and strong winds.
Tropical cyclones are called hurricanes in the West Indian islands in the Caribbean Sea and Atlantic Ocean.
Key Points
It has reached wind speeds of up to 90 mph and is expected to produce heavy rains across portions of southern Texas and northeastern Mexico, which will result in flash flooding and isolated minor to moderate river flooding.
It has been categorised as a Category 1 storm on the Saffir–Simpson hurricane wind scale (SSHWS).
This year, an "above-normal" hurricane season is expected in the USA.


One reason for this is the warmer-than-average sea surface temperatures in the tropical Atlantic Ocean and the Caribbean Sea, along with weaker tropical Atlantic trade winds and an enhanced west African monsoon.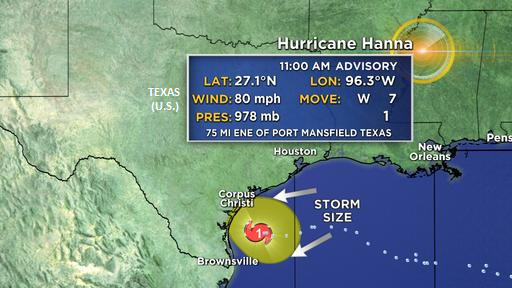 Hurricane
It is a tropical cyclone that occurs in the Atlantic Ocean and the northeastern Pacific Ocean.
These are formed over the warm ocean waters near the equator.
Hurricanes typically form between 5 to 15 degrees latitude north and south of the equator.
Saffir-Simpson Hurricane Wind Scale
It is a 1 to 5 rating based on a hurricane's sustained wind speed. This scale estimates potential property damage.