Gender Disparity and Covid-19
Why in News
Recently, GlobalHealth50/50 suggested that the gender-split of Covid-19 cases in all countries is roughly 50-50, barring two exceptions: India and Pakistan.
Men in India more than women likely to test positive for COVID-19.
Another unusual exception was South Korea — the country that has conducted the maximum number of tests as a proportion of population — in that more women tested positive than men.
GlobalHealth50/50 is an independent research initiative that tracks gender and health. It compiled data from almost 40 countries on Covid-19 cases.
Many countries, including the United Kingdom and the United States, do not have sex-segregated national data while publicising data on cases and death rates.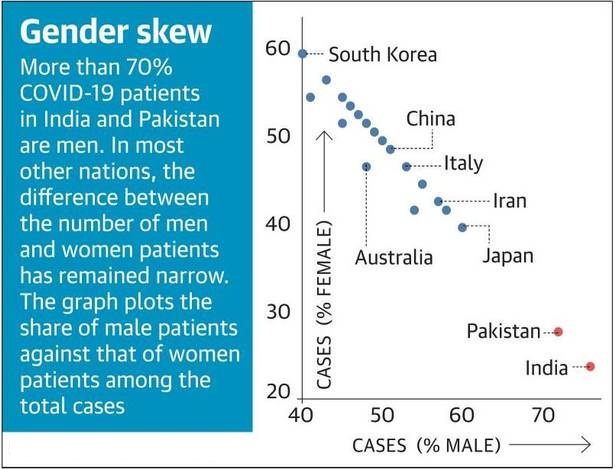 Key Points
Data Analysis (% of men out of total cases):


Greece- 55%
Italy- 53%
China- almost 51%(February data).
India- 76%
Pakistan- 72%
Germany- 50%
South Korea- 40% (more women positive)

India has not shared national figures on Covid-19 mortality rates in men and women yet. However, on April 6, 2020, the Health Ministry said 76% of the confirmed cases in India were men.
Reasons:


Epidemiologists have highlighted that in most countries men and women equally travelled internationally.
Indian case is reflective of employment trends also. There are less working women and very less are likely to travel internationally for work.
India's wide disparity is more likely due to sociological factors.
Global research on coronavirus so far has shown that men are more likely to be harbouring additional ailments like cardiovascular disease, diabetes and more likely to smoke.


These conditions make men even more vulnerable to the severe infection.

The figure seems to be a statistical reflection of relatively low testing for the disease.


With more testing and more infections detected, the male-female gap would likely narrow.