Elephant Undercounting
Kerala may have undercounted almost 2,700 elephants in the latest elephant census conducted in 2017.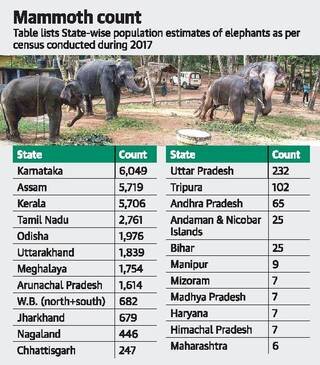 Elephant census, is conducted once in 5 years under the aegis of Project elephant.
A scientist associated with the census are of the view that discrepancy had resulted from Kerala's insistence in 2017 on using a technique called the 'direct count' method.
Elephant Counting Methods Employed in Census
The direct counting method is based on sightings of elephants.
The indirect counting method uses the elephant elephant 'dung decay' formula, in which the analysis of dung is used to estimate the population of the elephant.
Project Elephant
Project Elephant (PE), is a centrally sponsored scheme, and was launched in February 1992 for the protection of elephants, their habitats and corridors.
It also seeks to address the issues of human-wildlife conflict and welfare of domesticated elephants.
The Ministry of Environment, Forest and Climate Change provides the financial and technical support to major elephant range states in the country through Project Elephant.