Annual Public Enterprises Survey
Why in News
Recently, the 60th Public Enterprises (PE) Survey 2019-20 was released by the Department of Public Enterprises (DPE), Ministry of Finance.
It is the single largest source of information on Central Public Sector Enterprises (CPSEs) and acts as a basis for informed policy making.
The government has reallocated the Department of Public Enterprises (DPE) to the finance ministry from the ministry of heavy industries.
Key Points
About Public Enterprises (PE) Survey:


PE Survey is a 100% enumeration of the CPSE universe. It captures essential statistical data for all CPSEs on various financial and physical parameters.
PE Survey divides CPSEs into five sectors namely:


Agriculture,
Mining & Exploration,
Manufacturing, Processing & Generation,
Services,
Enterprises Under Construction.

The Department of Public Enterprises (DPE) started bringing out the Public Enterprises Survey from the financial year 1960-61 on the recommendations of the Estimates Committee of the 2nd Lok Sabha, 73rd report (1959-60).

About DPE And CPSEs:

DPE is the nodal department for all the Central Public Sector Enterprises (CPSEs) and formulates policy pertaining to CPSEs.
According to DPE, CPSEs mean those Government companies, besides Statutory Corporations, wherein more than 50% of the share in equity is held by the Central Government.

The subsidiaries of these companies, if registered in India, are also categorized as CPSEs.
It does not cover departmentally run public enterprises, banking institutions and insurance companies.

CPSEs are classified into 3 categories namely Maharatna, Navratna and Miniratna.

Presently, there are 10 Maharatna, 14 Navratna and 74 Miniratna CPSEs.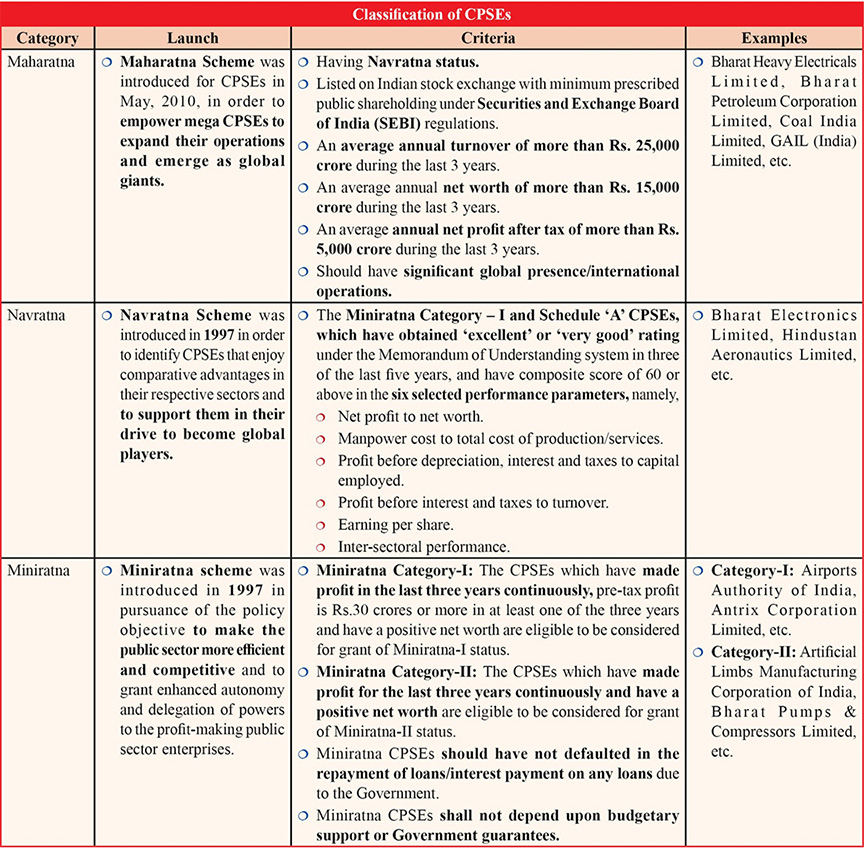 Role of Central Public Sector Enterprises:

CPSEs in India have a twin objective of commercial efficiency and social responsibility.
The idea of CPSEs was conceived to eradicate the accumulated problems of:

Unemployment,
Rural-urban disparity,
Inter-regional and inter-class disparities,
Technological backwardness.

CPSEs envisage to develop the public sector as an instrument for self-reliant economic growth.
Before India got independence, it had only a few CPSEs.

These included the Railways, Post and Telegraph, Port trusts, Ordnance factories, etc.
Most CPSEs were set up after independence when the private sector had limited capacity for large capital intensive enterprises.

Challenge: The challenge for these enterprises arises out of the need for them to ensure a reasonable return on investment, while discharging their constitutional and social obligations.

Atmanirbhar Bharat Abhiyaan - Contribution by CPSEs:

The CPSEs have taken a range of initiatives as part of the Atmanirbhar Bharat Abhiyaan towards meeting the Government of India's 'self-reliant India' agenda.
The initiatives include policy reforms, strategic partnerships, administrative actions, operational realignment and capacity building.
The initiatives by the CPSEs can be divided under five broad categories as shown below:

Enhancing local capacity to support Government's larger strategic objectives.
Promotion of cooperation between CPSEs to explore synergies.
Providing a platform for greater participation of domestic firms/MSMEs.
Rationalising import dependency to ensure long term sustainability.
Development of indigenous technology and promoting technology transfer to CPSEs.