Accessible India Campaign
Why in News
The deadline for the government's Accessible India Campaign (AIC) has been extended to March 2020 due to slow progress.
AIC is the nationwide flagship campaign of the Department of Empowerment of Persons with Disabilities (DEPwD), Ministry of Social Justice and Empowerment.
The aim of the Campaign is to make a barrier-free and conducive environment for Divyangjans (Persons with Disabilities - PwDs) all over the country.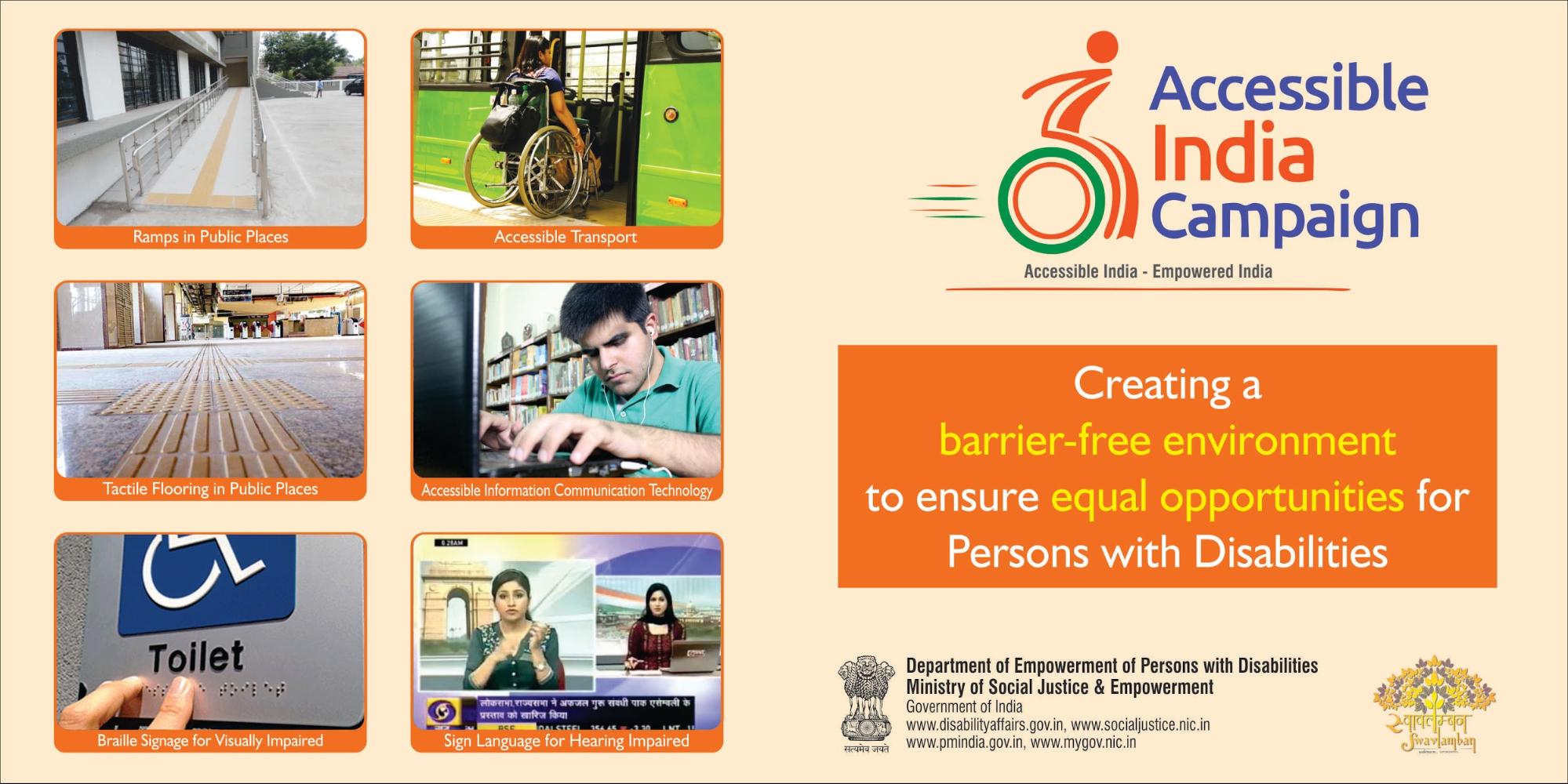 Accessible India Campaign
Launched by the Prime Minister of India on International Day of Persons with Disabilities on 3rd December 2015.
Background


Persons with Disabilities (Equal Opportunities, Protection of Rights and Full Participation) Act, 1995 categorically provided for non-discrimination in transport and in the built environment.

United Nations Convention on the Rights of Persons with Disabilities (UNCRPD), to which India is a signatory, under Article 9 casts obligations on the Governments for ensuring to PwDs accessibility to (a) Information, (b) Transportation, (c) Physical Environment, (d) Communication Technology and (e) Accessibility to Services as well as emergency services.

Three Components of AIC


Built Environment Accessibility
Transportation System Accessibility
Information and Communication Eco-System Accessibility

Targets entailed under the three components


Making 50% of all the government buildings of National Capital and all the State capitals fully accessible by December 2018.
Completing accessibility audit of 50% of government buildings and making them fully accessible in 10 most important cities/towns of States by December 2019.
Ensuring that 50% of railway stations in the country are converted into fully accessible railway stations by March 2018.
Ensuring that 25% of Government owned public transport carriers in the country are converted into fully accessible carriers by March 2018.
Conducting accessibility audit of 50% of all government (both Central and State Governments) websites and converting them into fully accessible websites by March 2017.