Gandhi, Truth and Ahimsa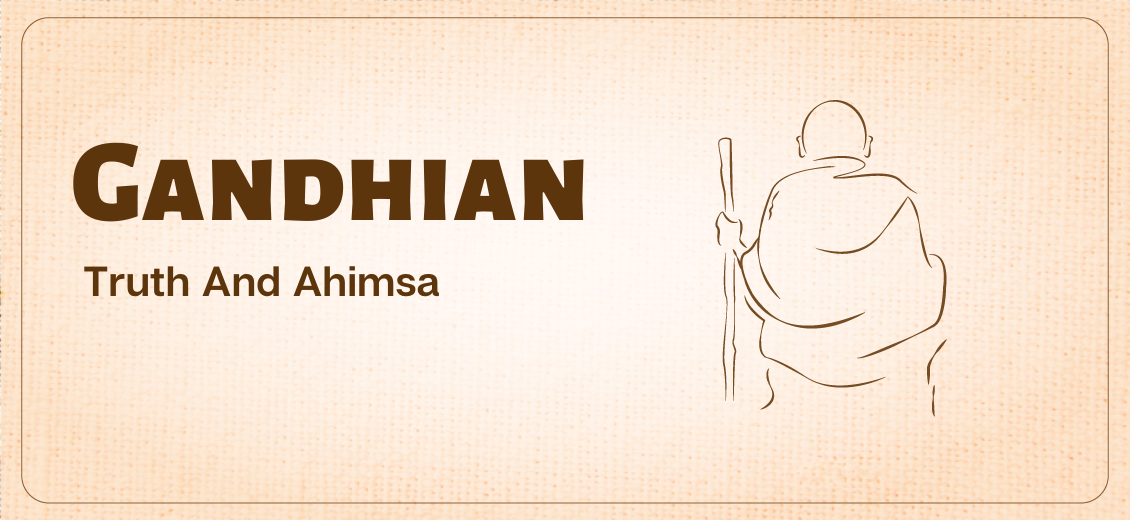 "My religion is based on Truth and Non-Violence. Truth is my God. Non-Violence is the means of realising him"
– Mahatama Gandhi
We have learnt about the Indian National Movement in our school textbooks and everyone, without any exception, is well familiar with the name Mahatma Gandhi. Often revered as the Father of the Nation, sometimes referred to as Bapu, Mohandas Karamchand Gandhi was an eminent lawyer, a social activist, a writer, a leader of the Indian National Movement and a known figure in Indian history.
Born in Porbandar, Mahatma Gandhi went to South Africa to pursue higher studies and work as a legal representative. He stood up against racial discrimination and developed his political views, ethics, and leadership. He arrived in India in 1915 and organised various Satyagrahas that emphasised the power of Truth. He launched the Non-Cooperation Movement, the Civil Disobedience Movement and finally, the Quit India movement, after which India gained Independence.
To put Gandhi's ideas in a quick read is rather a difficult thing to do. Scholars across the world have spent their lives studying the life of Mahatma and his various ideas. Thus it would be absurd to cramp all of his ideas into this blog. My attempt here would be to mention only a few of his thoughts on Truth and Non-Violence, which are still relevant in 2022.
Gandhi, Truth and Satyagraha
The idea of Truth is the principle on which Mahatma laid the thrust of the methodology he referred to as "Satyagraha", where he emphasised the need to search for Truth. For Gandhi, nothing exists in reality but the Truth. Devotion to what is true is the only justification for a person's existence. The general understanding of Truth only indicates that one must speak the Truth. However, the word Satya/Truth has a broader connotation for Mahatma. The Truth has to be observed not only in one's speech but also in thought and action.
Mahatma's idea of Satyagraha, where 'Satya' means Truth and 'agraha' translates to insistence, implies following the path of Truth. It is the demonstration of the Truth that does not seek vengeance but appeals to the oppressor's conscience to see what is true. Satyagraha is resistance, but it cannot be equated to passiveness. It is not the weapon of the weak. It is a power that only the strong have, as it demands intense activity. It neither implies any hatred nor destruction. It recognises the difference between evil and evil-doers. This is a significant distinction Satyagraha recognises. It understands that the oppressor is not the enemy but only away from the Truth and can be convinced (not forced) to know the Truth.
Gandhi and Ahimsa
The word Ahimsa is loosely translated to Non-Violence. Ahimsa means "lacking any desire to kill". It means to be harmless to oneself, others, and all living beings. But that is only a limited definition of what he meant by Ahimsa or Non-Violence. Gandhi gained an understanding of Hinduism and Jainism in his childhood, and perhaps, that was the significant influence that allowed him to advocate for Ahimsa. His belief in non-violence was demonstrated when he decided to call off the Non-Cooperation Movement at its height after a peaceful demonstration turned into a violent conflict at Chauri Chaura in Gorakhpur.
For him, there was no space for violence. He advocated Ahimsa (Non-Violence) in his idea of Satyagraha, a method used for mass mobilisation. While the Truth was the foundation of his philosophy, Ahimsa was the guiding law that should be followed by each Satyagrahi.
Ahimsa has two different connotations. In the narrow sense, it means not harming the other or oneself by body or mind. In the positive and broader sense, it denotes infinite love and charity. He says,
"..in its negative form, [Ahimsa] means not injuring any living being whether by body or mind. I may not, therefore, hurt the person of any wrong-doer or bear any ill-will to him and so cause him mental suffering. In its positive form, Ahimsa means the largest love, the greatest charity. If I am a follower of Ahimsa, I must love my enemy or a stranger to me as I would my wrong-doing father or son. This active Ahimsa necessarily included Truth and fearlessness."
Gandhian thought and present generation
It would be a cliche, but still, it would be fitting to state that Ahimsa and Truth are two sides of the same coin. They are so intertwined that it is not possible to separate them. If Ahimsa is the means, then Truth is the end. It is Ahimsa that forms the base of the search for Truth. The goal of Truth is not to embarrass the wrong-doer but to bring a change of heart, and the aim of Non-Violence is not limited to non-injury but also infinite love for the other. As Gandhi states, "With truth combined with Ahimsa, you can bring the world to your feet".
Today's generation has not lived through the pre-independence time. We might be familiar with the names of our freedom leaders and their thoughts, but we do not realise the intensity with which their ideas inspired the masses. Gandhi's Truth and Ahimsa appealed to the masses and allowed a more significant mobilisation of the "common" people.
He rightfully recognised that if freedom had to be achieved, it could not come without the support of the common people of India. Truth, i.e. Satya, and Non-Violence, i.e. Ahimsa, continue to inspire millions of people all over the globe. Drawn from religious beliefs, he successfully managed to transition the two principles into civil understanding and bind people.
Undoubtedly, these ideas have a global appeal and rightfully so. In a world that has become accustomed to violence and war, unrest and disturbing events as ordinary pieces in their daily newspaper, it is crucial for us to go back to the ideas often considered "idealistic" and try to change the canvas of this world from bloodshed and darkness to the warmth of peace, cooperation and harmony. We can begin this journey by returning to Gandhi, understanding Gandhian thought and trying to imbibe those thoughts in our everyday lives.
Annie Pruthi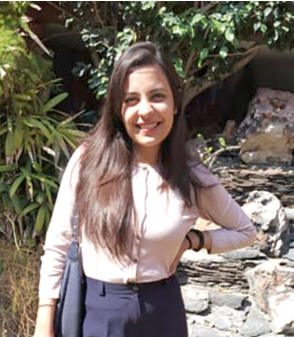 Annie Pruthi is pursuing her masters in Pol. Science from JMI, New Delhi and is a 1st division Arts graduate from Gargi College, DU. She is an avid reader and an award-winning author.