Life Journey of the Man of Peace- Lal Bahadur Shastri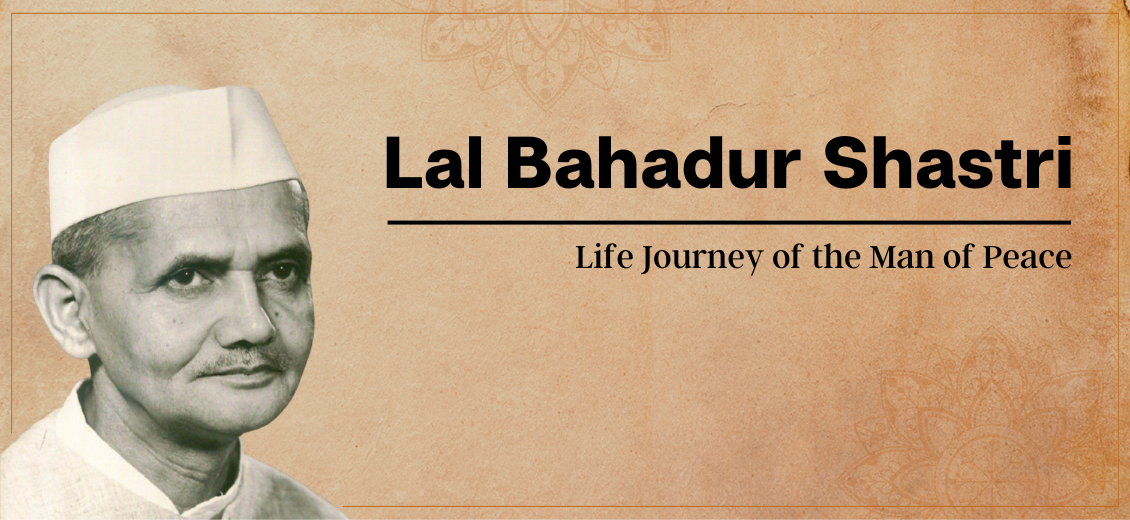 "In this vast country of ours, people profess different religions, speak different languages, dress differently and observe different customs; but we are one nation; the history of our struggle for independence and our faith in our future development is our common bonds".
– Lal Bahadur Shastri
After the sudden demise of India's first Prime Minister Jawahar Lal Nehru, a soft-spoken man with strong resolutions took upon his shoulders the responsibility to steer India through the difficult times. This man was India's second Prime Minister - Lal Bahadur Shastri. No matter how grim the situation looked he managed to come up with some way to tackle the situation, just like he did with the Green and White revolutions.

Early life
The distinguishable second Prime Minister Lal Bahadur Shastri was born on 2nd October 1904 in Mughalsarai, United Provinces of Agra and Oudh, British India. He shares his birthday with Mahatma Gandhi. His father Sharada Prasad Srivastava, a clerk in the revenue office at Allahabad died when he was a child. As a result, his mother, Ramdulari Devi, took him and his sisters to his maternal grandfather Munshi Hazari Lal's house, where he was brought up after his father's death. His mother took care of his schooling by taking a loan.
Being born in a Kayastha family, it was customary for him to be educated in the Urdu language and culture. For pursuing a High school education, he was sent to his uncle's house in Varanasi. He faced a lot of challenges during his early poverty-ridden childhood days. He walked to school miles away from home without shoes even during the scorching summer. Virtues such as boldness, patience, self-control, courtesy, and selflessness were acquired by him in his childhood.
He was never in favour of the caste system therefore he dropped his surname "Shrivastava". Shastri was inspired by Nishkameshwar Prasad Mishra at Harish Chandra High School and he started exploring the works of Mahatma Gandhi, Annie Besant, and Swami Vivekananda. He withdrew from his school due to Mahatma Gandhi's call to join the Non-cooperation movement.
For the very first time, he went to jail when he was 17 years of age. He wholeheartedly took part in the Indian freedom struggle whereby he also got arrested along with other freedom fighters on many occasions. In 1926, he was awarded the title of "Shastri" (scholar) after completing his graduation from the Kashi Vidyapeeth, Varanasi. There he got influenced by many intellectuals and nationalists.
In 1928, he got married to the Smt. Lalita Devi of Mirjapur. He was against the dowry system, but on the continuous insistence of the father of Lalita Devi, he accepted only five yards of khadi. The couple had 6 children.
Pre-Independence Role of Shastriji
Shastriji became the President of the Servants of People Society which was founded by Lala Lajpat Rai that worked for the upliftment of Harijans. In 1928, he joined the Indian National Congress as an active member. In 1930, he was given the position of President of the Allahabad Congress Committee. He also participated in Civil Disobedience Movement to encourage people to oppose paying land profits and taxes to the government. He directed a door-to-door campaign as well at the time of Gandhi's Salt Satyagraha. Furthermore, in 1937, he got elected to the UP Legislative Assembly. He also served as the Organising Secretary in 1937 of the U.P. Parliamentary Board.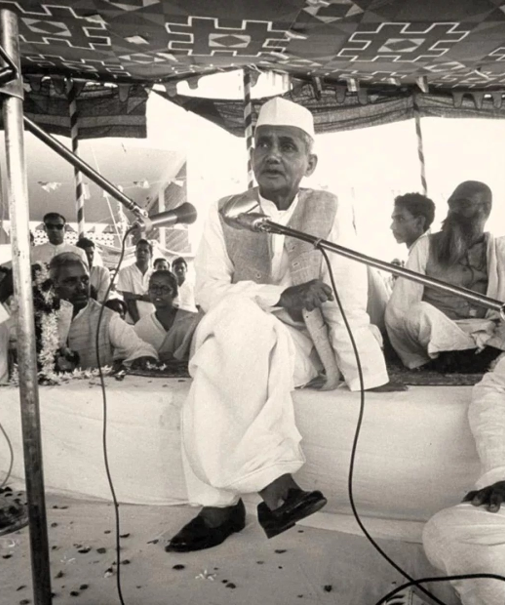 While Shastri was in jail in 1942, he utilized his time reading the social reformers and western philosophers. He also sent instructions to the independence activists for a week after being released from jail during the Quit India movement.
Post-Independence Role of Shastriji
After India got independence, Shastriji worked a lot for the development of the country and to keep India united. With the formation of the Congress government in 1946, he was invited to play a constructive role.
In 1951, he was appointed as the General Secretary of the 'All-India-National-Congress'. He played a pivotal role during the General Elections of 1952, 1957, and 1962. From the position of Parliamentary Secretary of Uttar Pradesh, he rose to the position of Home Minister. When Nehru was ill, he was made Minister without Portfolio.
Shastriji was declared a Rail minister in the Union government on 23rd May 1952. He started a third-class railway for the weaker sections of society. However, a rail accident took place that caused casualty and as a result, he resigned from the position on moral grounds.
He worked hard as a Minister of Police under Chief Minister Govind Vallabh Pant of Uttar Pradesh. He maintained law and order in the state and asked his police department that to disperse the mob they should use water and not the lathis over the crowd. In 1947, he was able to control the riots. Overall, it can be said that he had a successful tenure as a minister of state Police.
When Pakistan invaded India in 1965, he handled the operation well in an adverse situation too. In the same year, India faced a problem of food crisis. Shastriji gave the slogan of "Jai Jawan and Jai Kisan" to mobilize Indians. Known for his honesty and hard work, he held the position of Prime Minister for 18 months.
Accomplishments of Lal Bahadur Shastri
Two movements for which Shastriji would always be remembered were the Green revolution and the White revolution as he encouraged the masses to be self-reliant. The main motive of the Green revolution was to increase the production of food grains especially the cultivation of wheat and rice. The Green revolution was first introduced in 1966-67 in Punjab and thereby spread to other parts of the country.
Shastriji promoted the White revolution as he along with a few others wanted that there should be an increase in the production and supply of milk in the country. As a result, he created the National Dairy Development Board. He also supported the Amul milk co-operative of Anand, Gujarat.
On November 19, 1964, he laid the foundation stone for a prestigious Lucknow school, Bal Vidya Mandir. In the same month, the Central Institute of Technology Campus in Tharamani, Chennai, and the Chennai Port Trust's Jawahar Dock was opened by him.
The Sainik School, Balachadi was opened in the state of Gujarat. Plutonium Reprocessing Plant in Trombay was opened in 1965. Dr Homi Jehangir Bhabha suggested the development of nuclear explosives which was approved by Shastriji. The foundation stone for the Almatti Dam was also laid by him.
Posthumously, Bharat Ratna was also awarded to him. Lal Bahadur Shastri Memorial where he lived as the Prime Minister (located next to 10 Janpath) is run by the Lal Bahadur Shastri National Memorial Trust.
Mysterious Death of Shastriji
Pakistan's President Ayub Khan signed the Tashkent agreement (a peace treaty) on 10th January 1966. It ended the 17-day war between India and Pakistan. The peace agreement was signed under extreme stress. However, the very next day Shastriji died. Doctors revealed cardiac arrest as the cause of his death but his wife was of a different opinion. According to her, Shastriji was poisoned. The Russian butler who was arrested and suspected of killing Shastriji was soon released after doctors certified cardiac arrest as the reason for his death. His death remained one of the mysteries in history.
Conclusion

'Vijay Ghat' established in Delhi in honour of Lal Bahadur Shastri.
During his short tenure as a Prime Minister, Shastri Ji was able to plough India out of many difficult situations. There is no doubt that Shri Lal Bahadur Shastri was a great leader, a man of great integrity and competence. Truthfulness, modesty, and enthusiasm were his qualities to be cherished. As a man of vision, he led the country towards progress. In his honour, a memorial named 'Vijay Ghat' was established in Delhi.
Aditi Saini