Why In News?
On October 3, 2023, Rajasthan Chief Minister Ashok Gehlot had approved Rs 18 crore for the construction of panoramas in 4 districts – Jaipur, Bikaner, Ajmer and Jaisalmer.
Key Points:
It is known that the state government is preparing a panorama to preserve the historical and cultural heritage of the state and to make the new generation aware of the life ideals of great men.
With the approval of Chief Minister Ashok Gehlot, Swami Atmaramji Lakshya Panorama will be built in Jaipur and Rao Bikaji Panorama in Bikaner. These will cost Rs 4 crore each.
Besides, Prithviraj Chauhan Panorama will be constructed in Ajmer and Indira Mahashakti Bharat Panorama will be constructed in Pokhran, Jaisalmer. Rs 5 crore each will be spent on this. All the work will be done by the Tourism Department with the Tourism Development Fund.
In these panoramas, the new generation will get information about the personalities of Swami Atmaram ji, Prithviraj Chauhan and Rao Bikaji and the golden history of India. With this, they will be able to take inspiration from the lives of great men and get acquainted with the glorious history and culture.
It is noteworthy that the Chief Minister had made an announcement in this regard in the Budget 2023-24.
---
Why In News?
On October 3, 2023, Rajasthan's Art, Literature and Culture Minister Dr. B.D. Kalla inaugurated the audio-visual presentation (recording) of the entire code of Atharva Veda and Samveda by the Academy under the Veda Conservation Scheme under the aegis of Rajasthan Sanskrit Academy at his official residence.
Key Points:
This recording will be broadcasted on social media websites for the public. Its objective is to spread the spirit of public welfare contained in the Vedas to the people and to preserve the vanishing tradition of reciting the Vedas.
On this occasion, Dr. Saroj Kochhar, President Sanskrit Academy, informed that the Academy will open Ved Ashrams in 10 new districts under Budget Announcement-23 this year for the preservation of the Guru tradition of the Vedas and informed that at present there are 45 Ved ashrams in the state. Are being operated by the Academy.
Academy Director Dr. Rajkumar Joshi said that efforts are being made by the Academy to start the study of 11 branches of the four Vedas in Nimbahera at the academy level.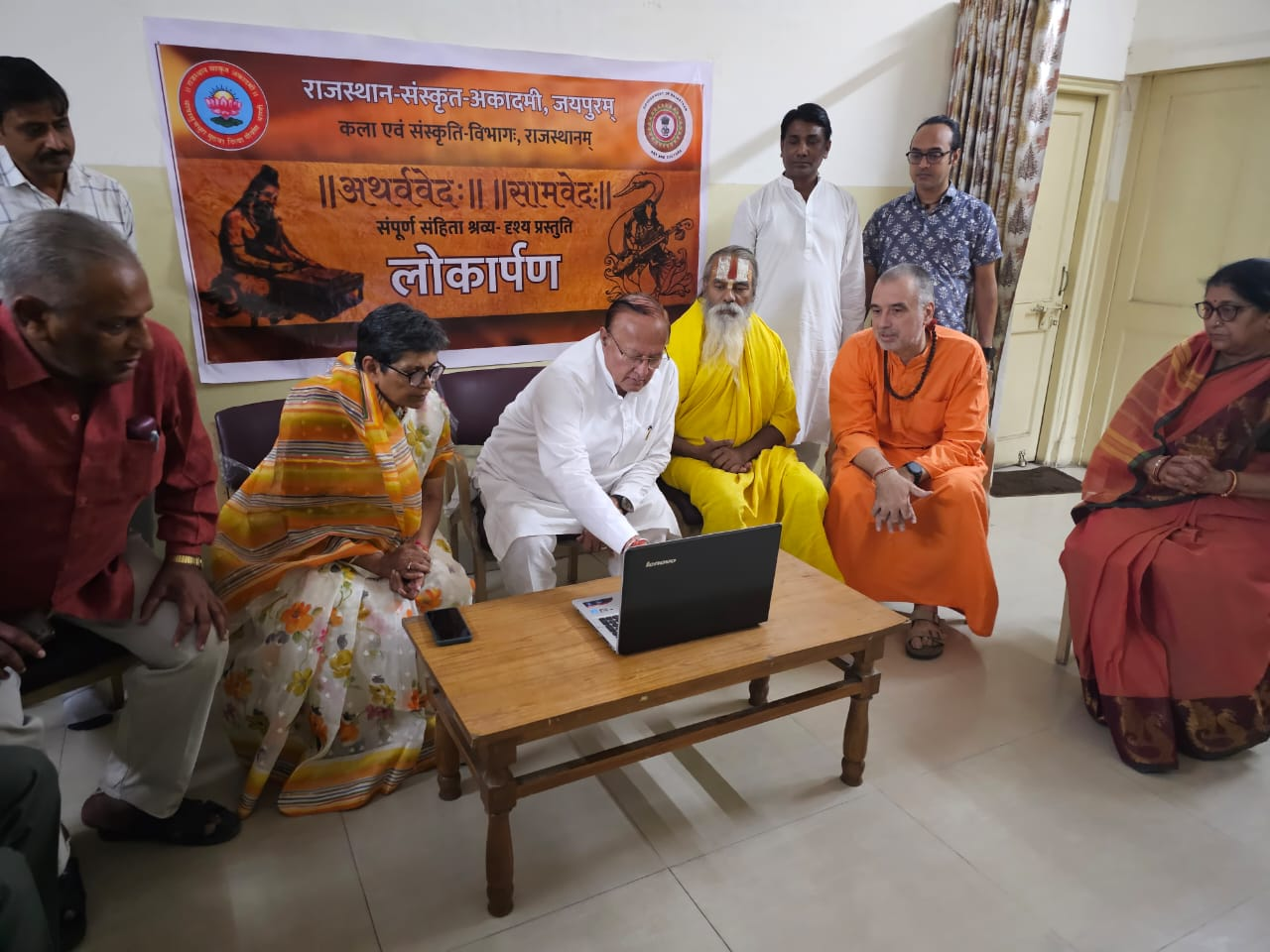 ---
Switch to Hindi