Why in News?
On 29 March 2023, the National Bank for Agriculture and Rural Development (NABARD) organized a State Credit Seminar at Jharkhand Mantralaya Auditorium in Ranchi, in which NABARD presented a state credit plan of Rs. 43,725 crores for Jharkhand in the year 2023-24.
Key Points
This credit scheme is about Rs 9,267 crore more than Rs 34,458 crore for the financial year 2022-23.
The theme of the program was 'Proliferation of State Budget with Credit Plan'.
On this occasion, MS Rao, CGM of NABARD highlighted the importance and purpose of the State Credit Seminar and emphasised the formation of more Farmer Producer Organizations in the state and the adoption of hi-tech agriculture by them for the benefit of the farmers. He presented the State Focus Paper on behalf of NABARD.
It has been clarified in the state focus paper that in all 24 districts of the state, banks can give loans of Rs 15,000 crore against the state's agricultural loan of Rs 4000 crore. Financial assistance has been increased in several schemes for the farmers, women and youth of the state. By giving priority to this sector, the situation of unemployment, poverty and migration can be controlled.
This time, like the central government, the focus of NABARD was seen on micro, small and medium industries. Considering the maximum loan potential of 51% in this sector, a loan proposal of Rs 22071.87 crore has been made in micro, small and medium industries.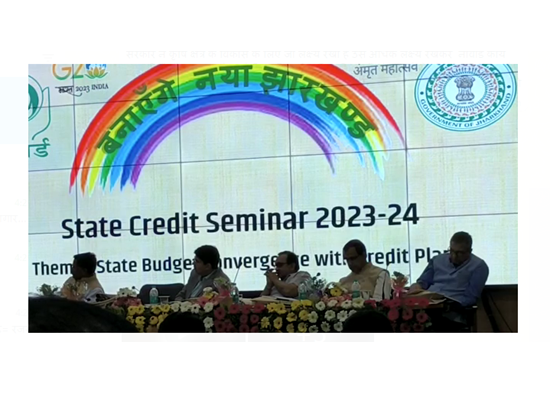 ---
Switch to Hindi