White Bellbird
According to a study, published in the journal 'Current Biology', the male white bellbird's mating call is about three times louder than screaming phias — the previously loudest bird.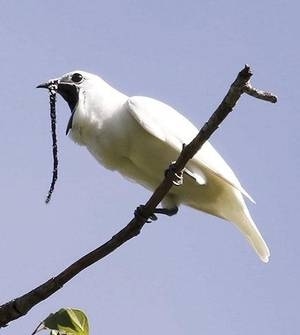 The discovery offers another example of the consequences of sexual selection.


Sexual selection happens when males compete for mates, driving the evolution of truly bizarre and exaggerated traits such as the peacock's tail, and the now found loud singing abilities of the male bellbirds.
In general, sexual selection is a theory in postulating that the evolution of certain conspicuous physical traits—such as pronounced coloration, increased size, or striking adornments—in animals may grant the possessors of these traits greater success in obtaining mates.

The white bellbird is one of the four bellbird species in South and Central America.
It is listed on the 'Least Concern' category under the IUCN.