TechEx: Technology and Innovation Platform
The Union Ministry of Human Resource Development has inaugurated the TechEx - technology exhibition at IIT Delhi.
TechEx was organized to demonstrate products and prototypes developed under the Ministry of Human Resource Development's IMPacting Research INnovation and Technology (IMPRINT) and Uchhatar Avishkar Yojana (UAY) schemes.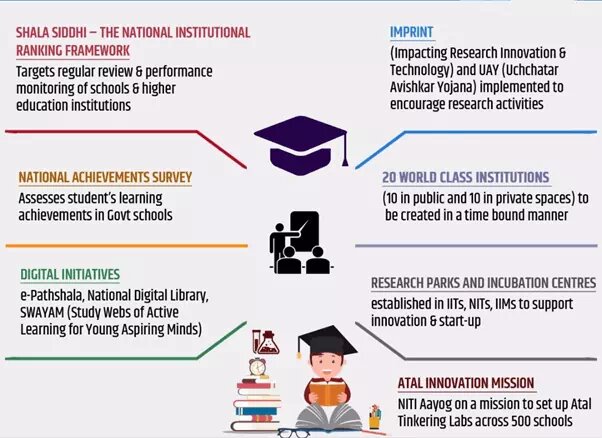 Uchhatar Avishkar Yojana
UchhatarAvishkar Yojana (UAY) was announced with a view to promote innovation of a higher order that directly impacts the needs of the Industry and thereby improves the competitive edge of Indian manufacturing.
The scheme focuses on a viable industry-academic collaboration where industry shares a part of the cost of research.
Other Initiatives/Schemes to Promote Research and Technology Ecosystem
Setting up of Research Parks: The Government has approved setting up of Research Parks at IIT Kharagpur, IIT Bombay, IIT Delhi, IIT Guwahati, IIT Kanpur, IIT Hyderabad, IIT Gandhinagar and IISc Bengaluru.
Prime Minister's Research Fellowship: The scheme offers direct admission to meritorious students in the Ph. D programmes in IITs, IISERs and IISc.
Smart India Hackathons: It is a nationwide initiative to provide students a platform to solve some of the pressing problems of daily lives.
SETU (Self Employment and Talent Utilization): It is a techno- financial, incubation and facilitation program to support all aspects of start-up particularly in technology driven areas.
Institution's Innovation Council (IIC) is established in Higher Educational Institutions (HEIs) for promoting innovation ecosystem within their campus.
Trainee Teacher Scheme: It had been initiated in National Institute of Technologies (NITs) with the objective to attract, motivate and sponsor best graduate engineers for part time M.Tech and Ph.D. programmes.
VAJRA (Visiting Advanced Joint Research Faculty): This enables NRIs and overseas scientific community to participate and contribute to research and development in India through monetary support by the government.
Prime Minister's Science, Technology & Innovation Advisory Council (PM-STIAC): It is an overarching body which assesses the status of specific S&T domains, comprehends challenges, formulates immediate, mid and long term interventions and presents a roadmap to the Prime Minister.