Switch To Hindi
Shanghai Cooperation Organization (SCO)
For Prelims: Members of Shanghai Cooperation Organisation (SCO), Its official language, Objectives and Initiatives
For Mains: Issues and Challenges of SCO
Why in News?
The Union Cabinet was apprised about the Agreement signed among the Shanghai Cooperation Organisation (SCO) member states on cooperation in the field of youth work among the authorized bodies of the member states of SCO.
Following adoption of the agreement on cooperation in youth work by the member states in 2021, the agreement was signed by the Indian Minister of Youth Affairs and Sports.
What are the Key Highlights of the Agreement?
Objective:

To strengthen mutual trust, friendly relations and cooperation among young people of SCO member States.
Recognizing the importance of ensuring the development of youth cooperation as an element of deepening friendly relations among the SCO Member States.
Seeking to further improve the conditions for youth cooperation based on international experience.

Areas of Cooperation:

Strengthen cooperation in the field of work with youth and public youth organizations (associations) implementing state youth policy,
Support initiatives aimed at enhancing international youth cooperation,
Training of professional staff in the sphere of work with youth,
Exchange of scientific, reference and methodological materials, work experience of state bodies, youth public organizations, other organizations and associations involved in the implementation of state youth policy and support of youth initiatives,
Carrying out joint research and activities on various youth policy issues and youth cooperation,
Exchange of scientific publications, research works on topical issues of preventing youth involvement in destructive structures,
Promote joint economic and humanitarian initiatives aimed at engaging youth in entrepreneurship and innovative projects to increase their employment and well-being,
Supporting the activities of the SCO Youth Council.

The SCO Youth Council was created in 2009 at the initiative of the Youth Organizations of the SCO member states.
What is Shanghai Cooperation Organization (SCO)?
About:

SCO is a permanent intergovernmental international organization.
It's a Eurasian political, economic and military organization aiming to maintain peace, security and stability in the region.
It was created in 2001.
The SCO Charter was signed in 2002, and entered into force in 2003.

Genesis:

Prior to the creation of SCO in 2001, Kazakhstan, China, Kyrgyzstan, Russia and Tajikistan were members of the Shanghai Five.
Shanghai Five (1996) emerged from a series of border demarcation and demilitarization talks which the four former Soviet republics held with China to ensure stability along the borders.
Following the accession of Uzbekistan to the organization in 2001, the Shanghai Five was renamed the SCO.
India and Pakistan became members in 2017.
On 17th September, 2021, it was announced that Iran would become a full member of the SCO.

Objectives:

Strengthening mutual trust and neighborliness among the member states.
Promoting effective cooperation in -politics, trade & economy, research & technology and culture.
Enhancing ties in education, energy, transport, tourism, environmental protection, etc.
Maintain and ensure peace, security and stability in the region.
Establishment of a democratic, fair and rational new international political & economic order.

Membership:

Kazakhstan, China, Kyrgyzstan, Russia, Tajikistan, Uzbekistan, India, Pakistan and Iran.

Structure:

Heads of State Council – The supreme SCO body which decides its internal functioning and its interaction with other States & international organisations, and considers international issues.
Heads of Government Council – Approves the budget, considers and decides upon issues related to economic spheres of interaction within SCO.
Council of Ministers of Foreign Affairs – Considers issues related to day-to-day activities.
Regional Anti-Terrorist Structure (RATS) – Established to combat terrorism, separatism and extremism.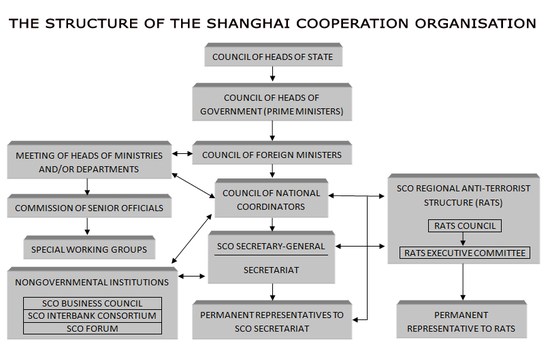 SCO Secretariat – Based in Beijing to provide informational, analytical & organizational support.
Official language:

The official working language of the SCO Secretariat is Russian and Chinese.
UPSC Civil Services Examination, Previous Year Question (PYQ)
Q. Consider the following: (2022)
Asian Infrastructure Investment Bank
Missile Technology Control Regime
Shanghai Cooperation Organisation
India is a member of which of the above?
(a) 1 and 2 only
(b) 3 only
(c) 2 and 3 only
(d) 1, 2 and 3
Ans: (d)
Explanation:
MTCR is an informal and voluntary partnership among 35 countries to prevent the proliferation of missiles and unmanned aerial vehicle technology capable of carrying greater than 500 kg payload for more than 300 km.

India was inducted into the Missile Technology Control Regime in 2016 as the 35th member.

AIIB is a multilateral development bank with a mission to improve social and economic outcomes in Asia.

Membership in the AIIB is open to all members of the World Bank or the Asian Development Bank and is divided into regional and non-regional members.
India is the second-largest shareholder, contributing USD 8.4 billion.

SCO is a permanent intergovernmental international organisation. It's a Eurasian political, economic and military organisation aiming to maintain peace, security and stability in the region.

India and Pakistan joined SCO as full member on 9 June 2017.

Hence, option (d) is correct.