Kwar Hydroelectric Project
Why in News?
The Cabinet Committee on Economic Affairs (CCEA) has approved the 540-megawatt Kwar hydroelectric project on the Chenab in Kishtwar district of Jammu and Kashmir.
What is the Kwar Project?
This is part of the Indus basin and would be one of at least four projects coming up in the district, including the 1,000 MWs Pakal Dul hydroelectric project and 624 MWs run-of-the-river Kiru hydroelectric project.
Under the 1960 vintage Indus Water Treaty (IWT) between India and Pakistan, the two countries share the waters of six rivers in the Indus basin that flow through India towards Pakistan.

Of these, India has complete rights over three eastern rivers - Sutlej, Beas and Ravi, while Pakistan has rights over the western rivers - Chenab, Jhelum, and Indus.

The Kwar project will be implemented by Chenab Valley Power Projects Private Ltd (CVPPL), a joint venture company between NHPC Ltd and Jammu & Kashmir State Power Development Corporation (JKSPDC).
The project is expected to generate 1975.54 million units in a 90% dependable year.
The construction activities of the Project would result in direct and indirect employment of about 2,500 people.
What are the Key Points of Chenab River?
Source: It rises in the upper Himalayas in the Lahaul and Spiti district of Himachal Pradesh state.

The river is formed by the confluence of two rivers, Chandra and Bhaga, at Tandi, 8 km southwest of Keylong, in the Lahaul and Spiti district.

The Bhaga river originates from Surya taal lake, which is situated a few kilometers west of the Bara-lacha la pass in Himachal Pradesh.
The Chandra river originates from glaciers east of the same pass (near Chandra Taal).

Flows Through: It flows through the Jammu region of Jammu and Kashmir into the plains of Punjab, Pakistan, before flowing into the Indus River.
Some of the important projects/dams on Chenab:

Salal Dam- hydroelectric power project near Reasi
Dul Hasti Hydroelectric Plant- power project in Kishtwar District
Pakal Dul Dam (under construction)- on a tributary Marusadar River in Kishtwar District.
Kiru Hydroelectric Project (Kishtwar District)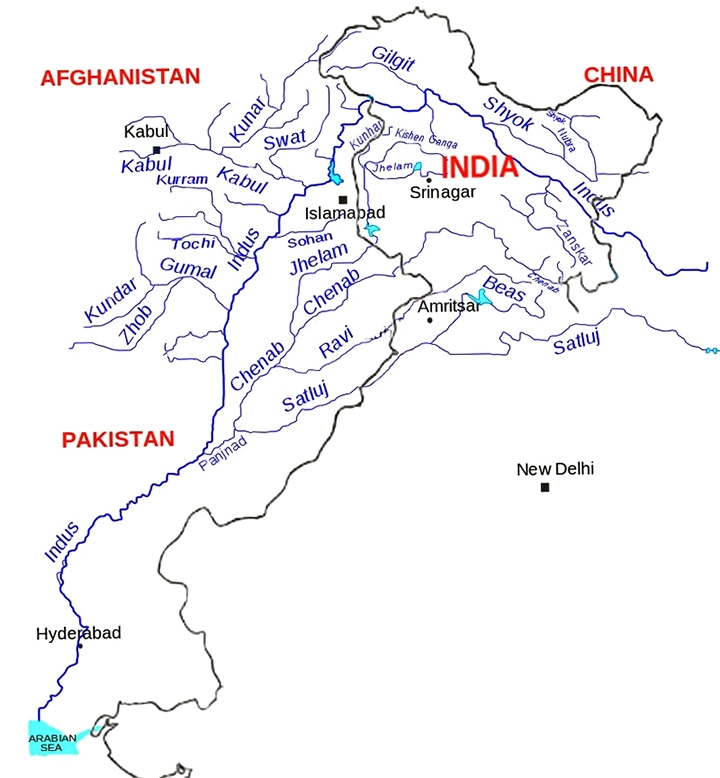 UPSC Civil Services Examination Previous Year Questions (PYQs)
Q. With reference to the Indus river system, of the following four rivers, three of them pour into one of them which joins the Indus directly. Among the following, which one is such a river that joins the Indus direct?
(a) Chenab
(b) Jhelum
(c) Ravi
(d) Sutlej
Ans: (d)
The Jhelum joins the Chenab near Jhang in Pakistan. The Ravi joins the Chenab near Sarai Sidhu. Satluj is joined by the Chenab in Pakistan. Thus, Satluj receives the collective drainage of the Ravi, Chenab and Jhelum rivers. It joins the Indus a few kilometres above Mithankot. Therefore, option (d) is the correct answer.
Q. Consider the following pairs (2019)
Glacier River
Bandarpunch : Yamuna
Bara Shigri : Chenab
Milam : Mandakini
Siachen : Nubra
Zemu : Manas
Which of the pairs given above are correctly matched?
(a) 1, 2 and 4
(b) 1, 3 and 4
(c) 2 and 5
(d) 3 and 5
Ans: (a)
Q. Rivers that pass through Himachal Pradesh are (2010)
(a) Beas and Chenab only
(b) Beas and Ravi only
(c) Chenab, Ravi and Satluj only
(d) Beas, Chenab, Ravi, Satluj and Yamuna
Ans: (d)